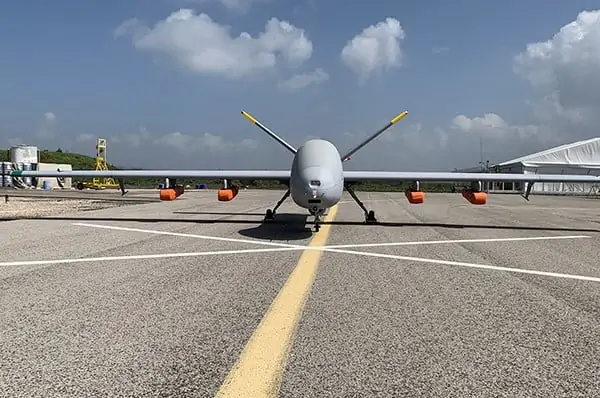 Elbit Systems has integrated new life-saving capabilities into one of its Hermes 900 Maritime Patrol unmanned aerial systems (UAS) at the request of a customer in South-East Asia. The custom capabilities, including detection and identification capabilities, onboard inflated life-rafts, and precision dispatch capability, are designed to enable the UAV to perform long-range maritime search and rescue (SAR) missions.
Manned SAR aircraft can face significant difficulties when operating under harsh weather conditions, and may often be unable to complete their missions. The Hermes 900 Maritime Patrol UAS can operate in challenging weather both during the day and at night, and features a continuous flight endurance of more than 24 hours. The new SAR capabilities installed on this Hermes 900 will further increase its effectiveness and its ability to safely execute maritime SAR missions.
The Hermes 900 Maritime Patrol can carry up to four six-person life-rafts that are integrated on its wings. The UAS detects survivors using an onboard maritime radar, and confirms visual identification using an advanced Electro-Optic/Infra-Red (EO/IR) payload. After calculating a suitable drop point, the drone dispatches life rafts from a low altitude of 600ft to this pin-pointed location, at a safe distance from the survivors. A gradual inflation process of the life-rafts is initiated after dispatch and is completed upon landing.
The Hermes 900 Medium Altitude Long Endurance UAS is currently operational with the Israeli Air Force since 2015 as well as other armed forces and institutions around the world, including Switzerland, the UK, Brazil, Mexico, and Chile, the EU and the UN, and countries in South-East Asia.