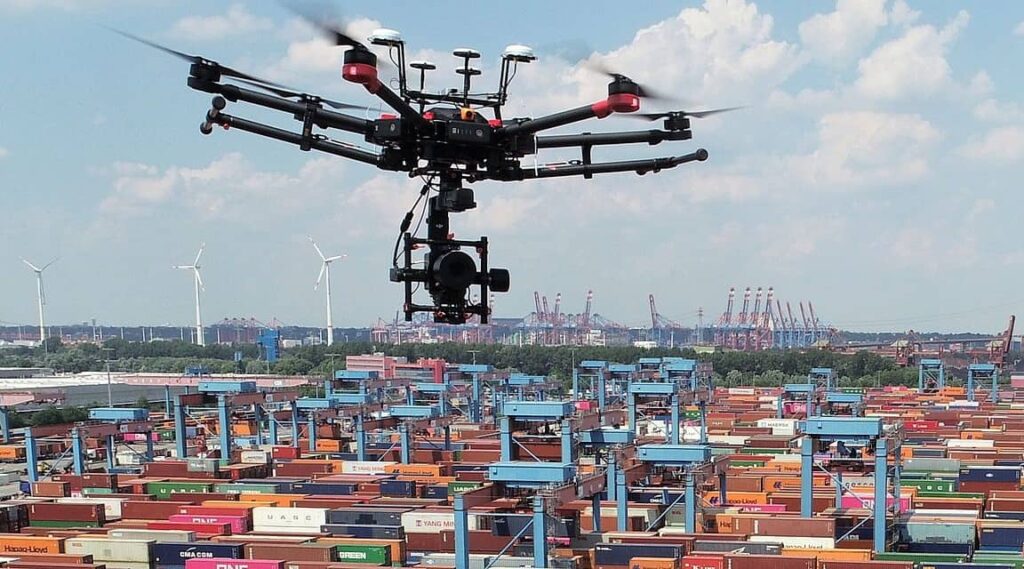 Phase One Industrial has released a case study outlining how the company's iXM-100 medium format camera has been integrated into a UAV (unmanned aerial vehicle)-based aerial imaging platform used to survey many kilometers of rail tracks at an automated shipping yard in Germany.
Read the full case study on Phase One's website here
Automated storage cranes at Hamburger Hafen und Logistik AG's (HHLA) shipment yard require an annual survey of over 30km of rail per terminal, in order to measure any changes in the systems' rail tracks due to changes in geomorphological conditions of subsoil as well as to outline any required repairs. Researchers from the AeroInspekt project at the Technical University of Braunschweig have assembled a system based on the DJI M600 Pro drone and Phase One's iXM-100 aerial camera with a 150mm RSM lens.
By flying the Phase One iXM-100 medium format aerial camera at low altitudes of only 35 m, surveying with a resolution of up to 1mm could be achieved. During the project, the workflows for processing and interpretation of the large data sets were developed, optimized and evaluated by the team on the ground.
Using a drone-based surveying system meant that operations at the shipping yard did not have to be disrupted while work was carried out. Potential physical stress on the infrastructure was also reduced, and occupational safety increased.
To find out more about high-precision drone surveying with the Phase One iXM-100 aerial camera, read the full case study on Phase One's website.