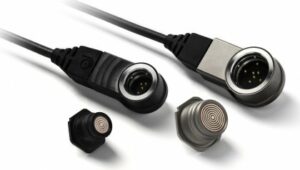 Fischer Connectors has been granted the first patent on its Freedom Series of connectors in the United States of America. This grant marks an important step in the patenting process due to the U.S. being a key market for Fischer Connectors. The patent protects the global concept of the Fischer LP360 connector, the first product in the Freedom Series, which has been extended into a technology platform enable further innovations in connectivity and application design.
The Fischer LP360 connector is designed to be lightweight and easy to integrate and use, featuring intuitive mating, reliability in harsh environments and a low-profile design. It is well-suited to compact UAV (unmanned aerial vehicle), drone and robotics applications.
The connector's unique combination of sealed, blind-mate and non-magnetic quick-release locking mechanism with pre-defined force allows for 360-degree mating freedom. The plug is also IP68-sealed via a membrane, making both plug and receptacle easy to clean, and preventing ingress of water, dust and sand.
Since its launch, the Fischer LP360 connector has won two "Best Product of the Year" awards and two Innovation awards. Fischer expects patents in more countries to follow in the near future, as well as patents on specific parts of the product.