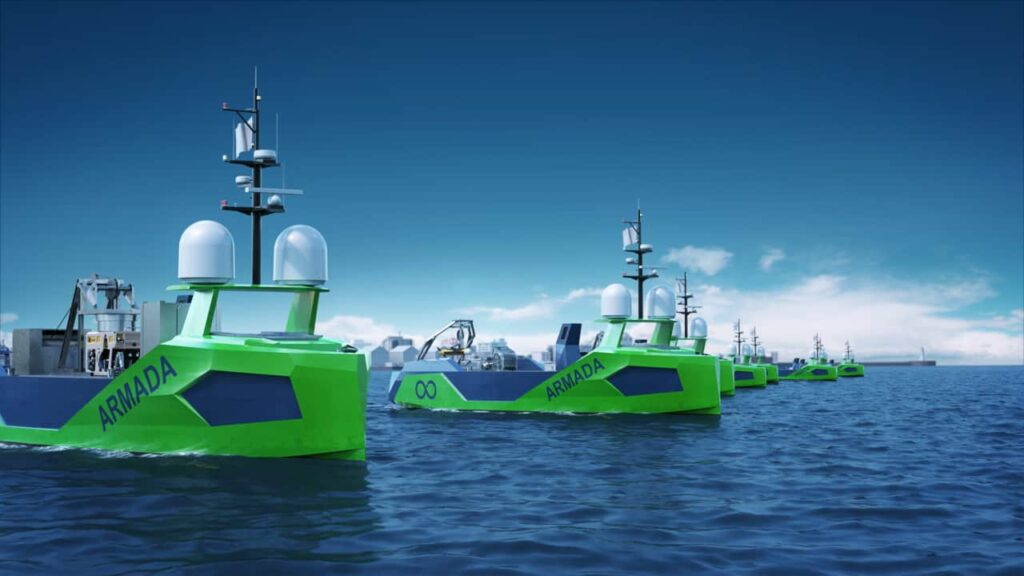 Ocean Infinity, a provider of hydrographic & geophysical survey services, has announced the launch of Armada, a new marine technology and data company. Armada will focus on combining technology and sustainability, and as part of its initial operations will add fifteen bespoke-designed unmanned surface vehicles (USVs) to Ocean Infinity's existing fleet of autonomous underwater vehicles (AUVs).
Each USV will be equipped with state-of-the-art sensors and will also be able to deploy AUVs and ROVs for visual and acoustic data acquisition. The vessels will be able to perform a wide range of offshore data acquisition and intervention operations down to a depth of 6,000 meters for a variety of different industries.
The fleet of USVs do not require a crew or host vessel, and will be remotely controlled and operated by experienced mariners via satellite communications from facilities in both Austin, Texas and Southampton, England. Armada claims that this approach produces up to 90% less CO2 than other conventional survey vessels, and that this makes it the most environmentally sustainable company in the industry.
Oliver Plunkett, CEO for Ocean Infinity, commented: "We've been driven to innovate by a desire to further reduce our impact on the environment and the time people spend at sea. We have built an outstanding team who boast world leading expertise to take this next stage of our business forward for the benefit of our clients and all those who work with us. The launch of Armada re-confirms Ocean Infinity as the leading marine robotics and ocean data company in the world. "
Dan Hook, Managing Director for Armada, stated: "We are very excited to be launching Armada, which perfectly complements the other service offerings in the Ocean Infinity Group. The pioneering technology makes our operations world leading in terms of environmental sustainability and safety, whilst still achieving the very highest levels of data quality and value for our clients. With no requirement for a host vessel, we are breaking new ground in the area of sub-sea technology and data. We look forward to providing our existing and new clients with a best in class solution that will be revolutionary for the industry."