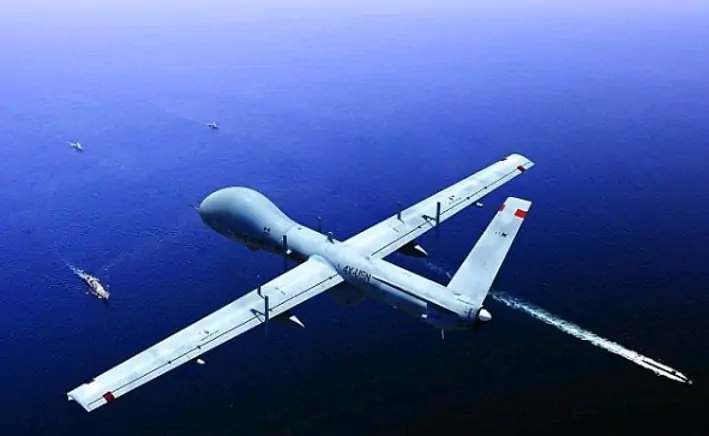 Elbit Systems UK has announced that it has been selected by the United Kingdom's Maritime and Coastguard Agency (MCA) to conduct demonstrations with a number of the company's unmanned aerial systems (UAS) including the Hermes 900. These demonstration flights are intended to prove the advantages of using UAS for maritime patrolling in civilian airspace, especially when flying multiple sensors on the same aircraft.
Elbit's Hermes 900 Maritime Patrol UAS, which weighs 1.2 tons and has a wingspan of 15 metres, is a long-range maritime surveillance platform that has been specifically designed for littoral and blue water missions. Payloads and capabilities include maritime radar, an electro-optic sensor, satellite communications, an Automatic Identification System receiver and an emergency position-indicating radio beacon receiver.
The Hermes 900 provides persistent monitoring of wide areas of sea and extensive lengths of coastline, with advanced search capabilities for SAR (search and rescue) missions and identification of potential hazards. Elbit Systems will also be flying its smaller Skylark I-LEX UAS during the demonstrations.
Martin Fausset, CEO of Elbit Systems UK, commented: "We are proud to partner with the UK Maritime and Coastguard Agency on this valuable demonstration of the wide range of unmanned capabilities Elbit Systems UK can offer. We look forward to providing the best possible support for the lifesaving work of the MCA. This is the latest example of how Elbit Systems UK is delivering proven technologies to support operational needs of UK customers."
Maritime Minister Nusrat Ghani said: "Drone technology has enormous potential for our search and rescue teams, who save lives 24 hours a day, seven days a week. This ground-breaking project will not only hope to boost the capabilities of our already fantastic teams but will also boost our ability to spot pollution hazards and protect our precious marine environment."
Elbit Systems UK will work closely with the UK Civil Aviation Authority, in addition to other UK-based companies, including Inzpire and Aviation Systems Group. The partnership will support the MCA in their existing efforts, providing a 24-hour maritime search and rescue service around the UK coast and in the international search and rescue region through HM Coastguard.