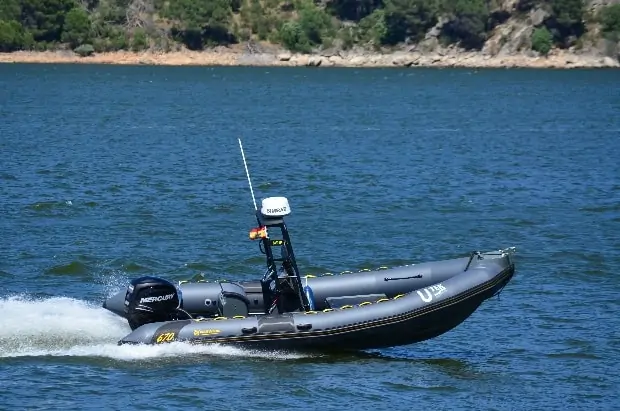 Unmanned Teknologies Applications (UTEK), a manufacturer of high-performance USVs (unmanned surface vehicles), has announced that, in conjunction with 5TONIC members Telefónica, Ericsson and IMDEA Networks, it has used Telefónica's commercial 4G network to remotely control a USV. 5TONIC is an open research and innovation laboratory in which industry and academia collaborate on ventures such as pre-commercial 5G equipment, services, and applications.
UTEK's off-the-shelf USV can be remotely controlled using the connectivity supported by a radio-frequency system operating in unlicensed portions of the spectrum. The vessel's onshore controller uses real-time video captured by an onboard camera in order to steer it in the right direction. The USV was adapted for LTE connectivity in place of RF, and both the vessel and controller were connected to the Telefónica LTE network using off-the-shelf commercial routers.
Telefónica provided a "VPN-only Mobile" service, which implements a tunnel inside the mobile network, without the need for Internet connectivity, and provides fixed IP addresses to the routers. The performance and reliability were comparable to those provided by the original RF system, and the LTE setup also greatly simplified the deployment of the equipment.
During the trial the USV travelled up to several kilometers from the shore, reaching speeds of over 15 knots. No loss of connectivity was observed, and latency was low enough not to impact the steering accuracy of the USV even at high speeds. The throughput also allowed for the use of high-resolution video.
UTEK and 5TONIC plan to further develop the technology in order to leverage 5G connectivity. 5G is expected to provide higher capacity that will support higher resolution video and 360º vision, as well as higher reliability and greater flexibility for configuring the network for specific requirements, due to network slicing and more effective quality of service management.
Cesar Martínez, CEO of UTEK, commented: "The use of commercial communications infrastructures already in service provides a great impulse for USV operation in coastal and inland water applications."
Manuel Lorenzo, Head of Technology & Innovation, Ericsson Spain, stated: "Mobile network evolution to 5G enables a huge range of use cases for safe remote control of unmanned vehicles, vessels, robots, etc. The outcome of Telefónica, Ericsson and IMDEA Networks' collaboration with UTEK is the perfect example for those use cases and it also demonstrates how co-creation schemes can deliver breakthrough innovations to the market in record time, leveraging LTE infrastructures and its evolution to 5G."