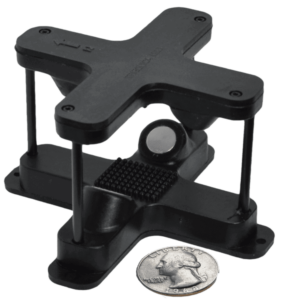 Anemoment, a developer of specialist meteorological instruments, and International Met Systems (InterMet), a supplier of atmospheric sensors and sounding systems, have announced that the two companies have achieved integration compatibility with several of their sensors and accessories optimised for use with unmanned aerial systems (UAS). The products concerned are:
Anemoment Products:
TriSonica Mini Wind & Weather Sensor
Anemoment Data Logger 222
InterMet Products:
iMet-XF Atmospheric Sensor Package
iMet XQ2 Second-Generation Atmospheric Sensor Package
With this new integration, InterMet's atmospheric sensor packages can now capture real-time, 3-dimensional wind and airflow data. The TriSonica Mini is highly compact and lightweight, with a measurement path of 35mm and weight of less than 50 grams, making it ideal for the SWaP-constrained requirements of small UAS. The sensor reports wind speed, direction, temperature, magnetic heading, relative humidity, pressure, dew point, and pitch and roll up to a 15° tilt.
InterMet's iMet-XF and iMet-XQ2 are radiosonde-quality sensors that provide accurate measurements with high vertical resolution and precise spatial coordinates, and are used worldwide for applications such as boundary layer research, atmospheric chemistry, and pollution source monitoring.
Fred Clowney, President of InterMet Systems, commented: "We have been looking for a way to add winds to our UAV sensor products and are excited to be working with Anemoment. No one else is even close to what they have achieved with their TriSonica sensor. The expanded compatibility announced today with Anemoment ensures that our customers can seamlessly integrate the functionality and features of the TriSonica Mini Wind & Weather Sensor with our UAS-optimized sensor packages."
Elizabeth Osborn, CEO of Anemoment, stated: "InterMet and Anemoment share a synergy for quality and accuracy recognized and acknowledged by our joint customers. Our collaboration with the team at InterMet further expands the feature sets these customers have come to expect from our respective companies."