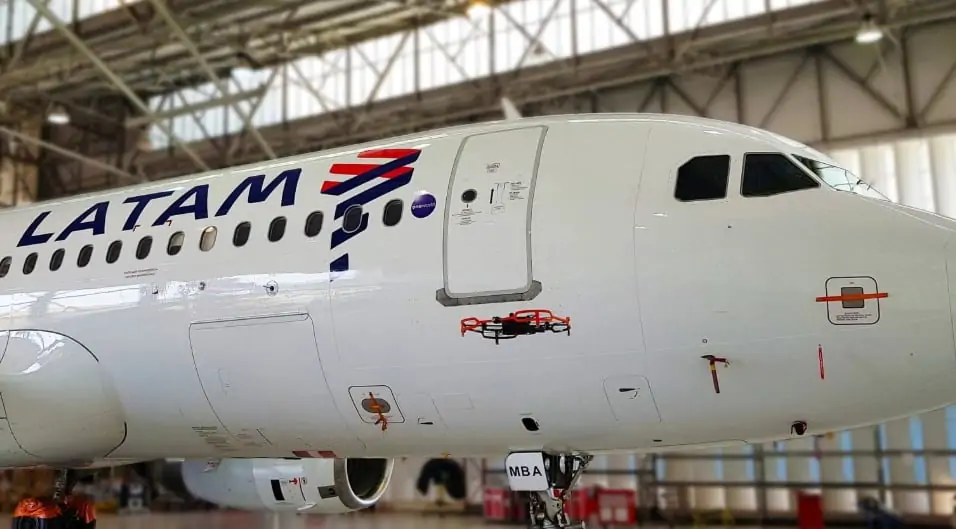 Donecle, a provider of automated aircraft inspection services, has announced that its drone-based aircraft inspection solution has been selected by LATAM Airlines Group, the largest airline in South America, to improve the efficiency and reliability of aircraft visual inspections during base maintenance for the airline's A320 fleet.
LATAM Airlines Group is headquartered in Santiago, Chile, and operates a fleet of more than 300 aircraft, including several models from the A320 family, and four maintenance sites. Following a successful 3-month trial period, LATAM decided to integrate Donecle's solution at its São Carlos site for visual inspections during heavy maintenance checks. The solution will help to optimize maintenance activities, increase workers' safety, and improve traceability of inspections.
The drone used in Donecle's solution does not require a pilot due to its laser positioning technology, and can automatically scan a narrowbody aircraft in less than one hour. The precise location of defects relative to the aircraft structure will help LATAM to optimise scheduling of repairs and job cards during checks.
Josselin Bequet, CEO & Co-founder at Donecle, commented: "We are very proud to count LATAM as a new customer and expand our operations in South America. The 3-month test was a key phase for LATAM to better understand the added value of the drone and to anticipate the integration into their maintenance process. We are happy to now have the drone up and flying with LATAM and are committed to support them to make the most of the solution."
Alexandre Peronti, Director of Maintenance at LATAM Airlines Brasil, stated: "This is a project that reinforces our pioneering approach in Latin America for the implementation of a brand new aircraft inspection method. It is a privilege having the opportunity to test this advanced technology, which has already helped us gain efficiency and elevated our Quality and Safety standards."