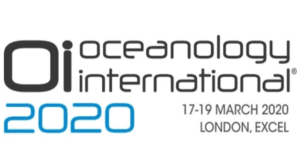 Registration has just opened for Oceanology International 2020 (17-19 March 2020), marking the 50th anniversary of the world's best known and most celebrated ocean technology exhibition and conference. Organisers Reed Exhibitions predict that Oi 2020 will be the largest edition in the expo's 50-year history, with in excess of 500 companies exhibiting to more than 8,000 buyers and influencers across 17,000+m2 of indoor exhibition space in ExCeL London. Visitors can register for exhibition tickets via the Oi 2020 website.
In the intervening half-century since Oceanology International was first staged, its reputation, influence, importance and portfolio have increased to the point where regional Oi events are now held in San Diego and Shanghai and a newly announced event focused on the Middle East region to be held in Abu Dhabi, in September 2020. This means that an Oceanology International now takes place every six months, providing an unparalleled global marketplace, forum and networking opportunity for academics, government representatives and marine science, technology and industry professionals from over 90 countries.
This international profile is underscored at Oi 2020 with the introduction of new Italian and Massachusetts pavilions, in addition to the welcome return of strong representation from group delegations from Canada, France, Germany, Ireland, the Netherlands, Norway and the US.
An overall expansion of key resources at this year's event will encompass a greater emphasis on features such as the Ocean ICT Zone, focusing on the most up-to-date connectivity and data solutions driving efficiency in the Marine Renewables, Offshore Oil & Gas, Aquaculture and Marine Science, and the Future Tech Hub, which highlights the most innovative products from new-to-market technologists.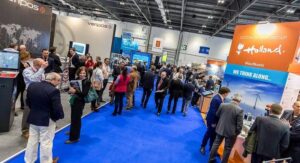 The exhibition will also witness an upscaling of Oi London's popular and informative on-water demonstrations in the adjacent Royal Victoria Dock, while an exhaustive range of product launches and refinements – taking in imaging and survey equipment, sensors, AUVs, ROVs, robotics and satcom solutions – will come under the show spotlight.
The broad-based, content-rich nature of Oi 2020's packed exhibition floor will be reflected by a similarly all-embracing technical conference program, which as ever will provide delegates with new knowledge and insight on important industry trends and forecasts. With balanced sustainability and growth in the Blue Economy as an overall priority, the conference program will also accommodate the Ocean Futures Forum – an in-depth discussion of technological developments in offshore industries – and Catch The Next Wave, which examines the ongoing benefits produced by the technologies that have been at the heart of Oceanology International over the last 50 years, with a focus on cross-sector expertise, future development and innovation.
"Oceanology International has become the must-attend event for organisations at the vanguard of delivering environmental sustainability and operational innovation for marine operations. Oi 2020 is no different," said David Ince, Event Director – Oceanology International, Reed Exhibitions. "It will chart the course of technology for the coming years and act as an essential networking opportunity. We aim to have more companies represented, new features, free interactive seminars and brokered one-to-one meetings via the Enterprise Europe Network and lots more, as well as a conference agenda with professional speakers from all over the world."