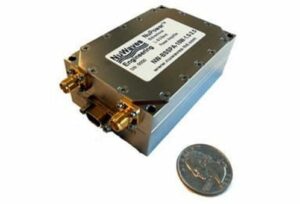 NuWaves Engineering, a leading developer of radio frequency and microwave solutions for unmanned aerial systems (UAS), has released an article explaining how low-power UAV radio systems designed for short-distance communications can be used in smaller UAS platforms as an inexpensive and reliable means of communications over greater distances.
Read the article on NuWaves' website
The article explains:
How UAV radio bandwidth and modulation settings depend on the application data throughput requirements
How radio link performance may suffer significantly at longer ranges due to low power output
How RF power amplifiers can be used to provide longer range and high data rates for UAV communications applications
RF power amplifiers can extend the usable range of low-power UAV radio systems for a wide variety of applications such as telemetry, ISR, and tactical communications. To find out more, read the article on NuWaves' website.