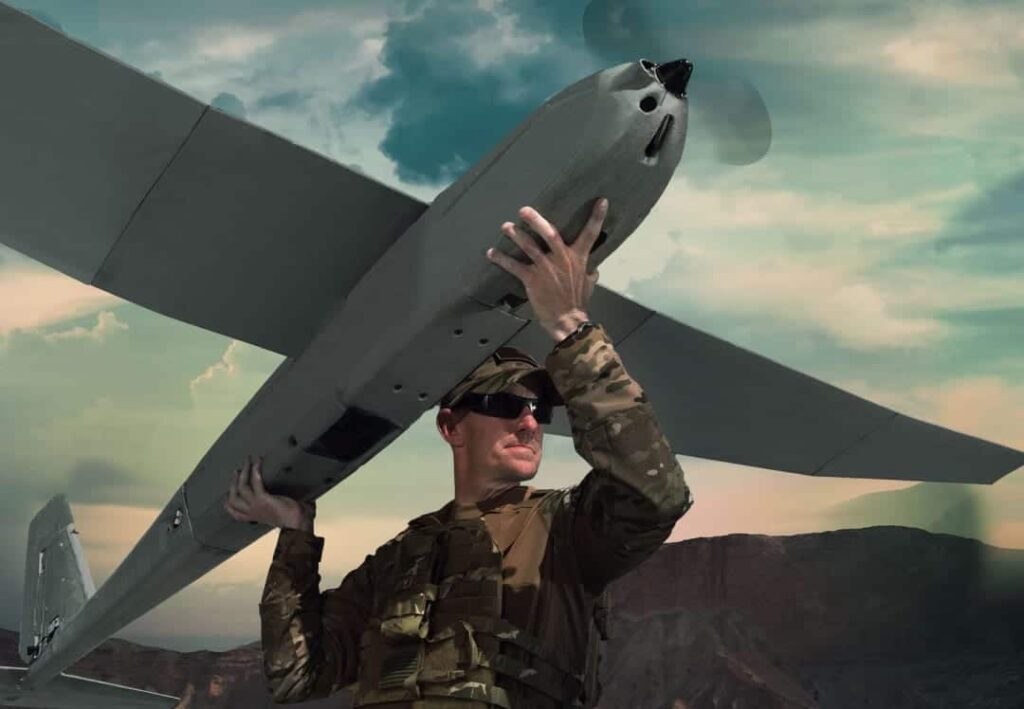 AeroVironment has announced that it has launched the Puma LE (Long Endurance), the next generation of its Puma All Environment family of small UAS (unmanned aircraft systems). The Puma LE improves on the battlefield-proven Puma AE with new capabilities, increased range, and expanded payload capacity, providing Group 2 UAS capabilities in a Group 1 footprint.
The Puma LE features an integrated Mantis i45 gimbaled EO/IR sensor and NVG-visible laser illuminator for high-performance intelligence, surveillance, and reconnaissance (ISR) at any time of day or night, over land or in maritime environments. The UAV weighs 22.5 pounds (10.4 kilograms) and can carry a payload of up to 5.5 pounds. Launched by hand or with a bungee launcher, it is capable of a 5.5 hour flight endurance, and can be operated at a range of up to 60km with AeroVironment's Long-Range Tracking Antenna (LRTA).
The new ruggedized secondary payload bay is equipped with a dedicated 18-24 volt/5 amp power supply and an Ethernet communications port. This enables users to fly a wide variety of third-party payloads for maximum multi-mission flexibility, such as electronic warfare, RF emitter geolocation, laser designation, communications relay and more.
The UAV can be operated manually or using the Ground Control Station (GCS) common to all AeroVironment sUAS. It uses interoperable line-replaceable unit (LRU) components that can also be used with Puma AE UAVs, thus providing operators with reduced logistical requirements and easier training. A variety of flexible system options allow customers to choose the right configuration based on mission requirements.
Rick Pedigo, vice president of sales and business development for AeroVironment, commented: "Puma LE is the next generation of the combat-proven Puma AE small UAS, delivering immediate tactical ISR, extended endurance and a dedicated secondary payload bay to dramatically expand its mission capabilities. With Puma LE, AeroVironment expands the envelope of small unmanned aircraft systems, and enables our customers to proceed with certainty in ever-changing operational environments."