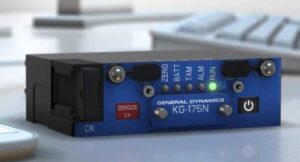 General Dynamics Mission Systems has announced that its new TACLANE-Nano (KG-175N) network encryptor, designed for tactical operations such as unmanned aerial vehicle (UAV) intelligence, surveillance and reconnaissance (ISR) missions, has been certified by the National Security Agency (NSA) to secure voice, video and data information classified Top Secret/SCI and below that traverses public and private IP networks. The certification recognizes and validates the system's capability to protect critical data communications through government networks and national security systems worldwide at any time.
Featuring a ruggedized and Size, Weight, Power and Cost (SWaP-C) optimized design for increased throughput of over 100 Mb/s in a smaller form factor, the TACLANE-Nano is ideal for the harsh environments of unmanned systems, and can be easily integrated into deployable SATCOM and baseband communication systems.
The TACLANE-Nano also features Agile TCP Performance Enhancing Proxy (PEP) for improved performance in disadvantaged networks. It supports crypto modernization technologies such as Advanced Cryptographic Capabilities (ACC) compliance and Over The Network Keying (OTNK), and can be used as a replacement for legacy and link encryptors.
Brian Morrison, vice president of the Cyber Systems line of business for General Dynamics Mission Systems, commented: "General Dynamics is committed to advancing our TACLANE portfolio to address our customers' unique mission needs from enterprise to edge. This certification makes TACLANE Type 1 encryption available in a ruggedized low SWaP form factor to bring our proven data security to the tactical edge of the battlefield."