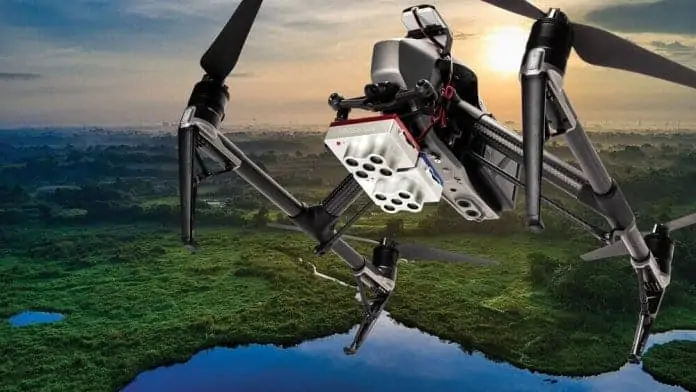 MicaSense, a developer of drone sensor solutions for imaging and precision agriculture, has announced the release of the RedEdge-MX Dual Camera Imaging System. The 10-band multispectral solution incorporates the RedEdge-MX sensor and the new RedEdge-MX Blue, which features a new group of five filters including a coastal blue band and two new red edge bands. The new solution is designed to facilitate easy data capture for cutting-edge vegetation research and drone/satellite comparisons, including applications such as shallow-water environmental monitoring and detailed chlorophyll efficiency analysis.
The Dual Camera Imaging System is the first MicaSense product to capture the Landsat 8 and Sentinel satellite bands, allowing for direct data comparison between satellite and drone data for efficient trend modelling and yield prediction.
The complete package includes an integrated quick mounting bracket and wiring harness for swift, easy attachment to DJI drones. The Dual Camera Imaging System fits seamlessly into standard data processing workflows from Pix4D and Agisoft, resulting in 10 band, pixel-aligned datasets for in-depth analysis.
Justin McAllister, MicaSense CTO, commented: "Our scientific community brought the RedEdge-MX Blue to life with the need to capture more multispectral bands in a simple workflow. With the Dual Camera System, users don't need to upgrade their drone platform or processing pipeline – the RedEdge-MX Blue integrates seamlessly with the RedEdge-MX and available processing workflows to create a simple and accurate 10-band solution. Having the same sensors in the hands of researchers and growers ensures that when research results are found, they can be applied effectively."
Eric Waters, MicaSense General Manager, said: "We are pleased to offer new and existing customers the simplest and most cost-effective solution for an easy upgrade to their system for 10-bands of data. The RedEdge-MX Dual Camera System has resulted from tremendous market demand for expanding our existing 5-bands for correlations to lower-resolution satellite data, and the desire to have a plug-n-play solution for the most commonly used aircraft. Those considering hyperspectral for plant research should look at this solution first."
An upgrade package is available for existing RedEdge-MX and RedEdge-M customers wishing to take advantage of 10-band imaging and analysis.