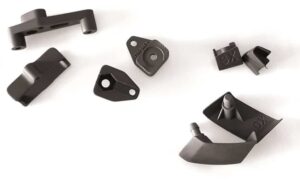 CRP Technology, a provider of composite materials and 3D printing technologies for UAVs (unmanned aerial vehicles) and other aerospace applications, has announced that its Windform P1 polymer has been shortlisted for the Materials Award – Polymers at the TCT Awards 2019, following an extensive review by the TCT Expert Advisory board. Windform P1 is an isotropic polyamide from CRP's P-LINE family of materials intended for high-speed production-grade 3d printing.
Providing similar quality and results to injection molding, Windform P1 is designed to provide faster high-volume production of small end-use parts, with detailed surface resolution. Advantageous properties of Windform P1 include isotropic behaviour in all three axes, high flexibility, a CTI rating of 600, and high recyclability.
Franco Cevolini, VP and CTO at CRP Technology, commented: "We are very pleased with this new nomination. Less than three months ago we were awarded [at the 3D Printing Industry Awards 2019] 'Material Company of the Year' for our Windform TOP-LINE composite materials. And now this mention, for the third year in a row, places us among the international 3D printing elite. These are very important recognitions for the work that CRP Technology's R&D Department has been doing every day for over 20 years."
The award ceremony will take place at the Hilton Birmingham Metropole in Birmingham, UK during the gala evening of the 2019 TCT Show.