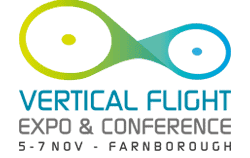 Exhibitors at the inaugural Vertical Flight Expo & Conference, formerly known as Helitech, will be coming from across the globe to gather at Farnborough International this November, showcasing the best of innovation and technology within the vTOL industry.
Taking place on 5-7 November, over 75 manufacturers, suppliers and operators will exhibit the latest products and services on the show floor. Over the course of the three-day event, visitors can expect to see everything from vertical flight veterans to brand-new start-ups, encompassing more aspects of the vertical flight sector than ever before.
First Responders
According to Association of Air Ambulances – an official partner to the show for 2019 – some 37 Helicopter Emergency Medical Services (HEMS) aircraft are widely used in challenging conditions throughout the UK alone. The ability for those pilots and crew to see clearly and have the highest level of awareness is critical to successful missions.
As a leading supplier to emergency services, Axnes AS will showcase the MP50 PNG Transceiver at this year's show, displaying the technological advances that have been made in the HEMS sector. With the capability of being fit for purpose whilst at a depth of three metres for 24 hours, the transceiver is built with special mission operations in mind, to be durable across a variety of challenging environmental conditions.
Also expanding the capabilities of HEMS aircraft and aircrew is Northwall srl. Providing a solution for emergency rescue pilots who need a steady hand as well as a calm head, its LMT Pilot Helmet is reduced in both size and weight, allowing for extended wear without effecting a pilot's sense of balance.
Another Pair of Eyes
Providing further solutions to enhance situational awareness, international manufacturer of innovative avionics systems, Universal Avionics, will exhibit its Vision-1 Synthetic Vision System. The technology acts as a wingman, providing both pilot and co-pilot with a 3D terrain database integrated with the flight plan and projected flight path of the aircraft. The product aims to increase the situational awareness of those in control, allowing for a more precise operation whether applied in a commercial or mission guise.
The future of vTOL
The advancing technology being used across aviation, has meant that new models of aircraft are increasingly taking flight. Through a recent global consumer survey, engineering Simulation company, Ansys, found that 70% of consumers are ready for autonomous aircraft and prepared to use them in their lifetime. The move towards automated and Unmanned Aerial Vehicles (UAV) is progressing rapidly, along with the desire for more automation in everyday transport such as cars and taxis.
To increase safety, efficiency and speed in time-critical operations, first-time exhibitor Malloy Aeronautics Ltd will display an example of its advanced systems available in aviation. Malloy is a specialist in designing, developing and producing heavy lift drones capable of autonomously delivering rapid response aid, equipment and people. Products such as the T-80 or T-150 – which can carry a 30kg+ payload – will be displayed at the exhibition, where the versatility of such aircraft can be discussed amidst the presence of current cargo systems from Swiss Rotor Solutions Ltd and Meeker Aviation Services.
Jonathan Heastie, Energy, Marine and Rotorcraft Portfolio Director at Reed Exhibitions said: "With such a diverse exhibitor line-up for 2019, we are excited to welcome visitors to this year's show where they can meet, engage and be inspired by a wide spectrum of the latest products and trends in vertical flight. For decades, the show has been the industry-leading event for anything and everything to do with helicopters, and it's important to us that we continue this longstanding heritage under the new guise. In its first year as the Vertical Flight Expo & Conference, we are pleased to directly respond to both exhibitor and visitor feedback to expand upon our offer, meaning we can represent all aspects of the industry at the show this November."

For more information or to register to attend, visit http://www.verticalflightexpo.com