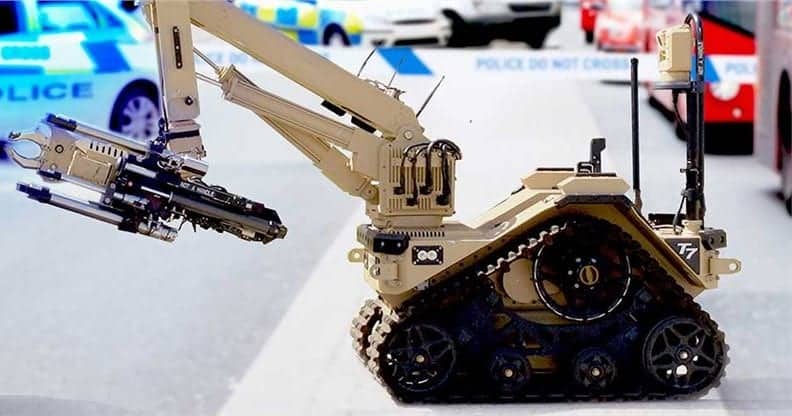 The United Kingdom's Ministry of Defence (MOD) has announced that it has entered into a contract option with L3Harris Technologies to provide T7 robotic systems to support domestic explosive ordnance disposal (EOD) missions. This award is an option to the contract the MOD previously awarded to L3Harris for T7 robotic systems for the military's overseas EOD missions.
The T7 UGV (unmanned ground vehicle) interface provides ease of use for operators and enhanced command and control. The robot provides operators with human-like dexterity and haptic force feedback from the robot arm to the remote-control handgrip. Its precision control and dexterity shorten task completion time and improve mission effectiveness, and its rugged track system provides the mobility and maneuverability required for rough terrain, which uniquely positions T7 as a ready-made solution for all large EOD robot requirements around the world. A variety of attachments enable use of standard-issue sensors, disruptors and tools that support a wide range of missions, including hazardous materials (HAZMAT) and the ability to disable and defeat improvised explosive devices (IEDs) planted inside vehicles.
The systems will be part of the MOD's Project STARTER and will help to defeat a wide variety of explosive threats within the U.K., including IEDs and unexploded ordnances (UXO). The T7 supports the demanding requirements of domestic deployed missions, including HAZMAT cleanup, EOD, intelligence, surveillance and reconnaissance (ISR) and special weapons and tactics missions. L3Harris is producing the systems at its Palm Bay, Florida factory and has established a repair depot in Brighton, U.K.
"This award will bring life-saving technology to U.K. armed forces and reaffirms the importance of highly reliable, precise and easy-to-use robotic systems for EOD operators," said Ed Zoiss, President, L3Harris Space and Airborne Systems. "The exercising of this contract option reaffirms that Project STARTER program execution has gone exceptionally well and performance of the T7 systems to date are exceeding the customer's expectations."