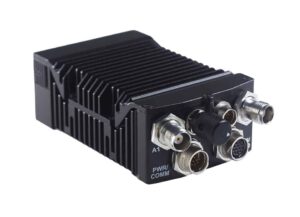 Silvus Technologies, a developer of Mobile-Networked MIMO (MN-MIMO) wireless communications systems, has announced a partnership with Anduril Industries, a defense technology company specializing in AI powered solutions, to provide MN-MIMO technology for high bandwidth, meshed video and data communications through Silvus's StreamCaster 4200 tactical radios. Anduril is leveraging this technology for relaying information between its intra-tower/drone mesh network, allowing it to operate in communications-challenged environments.
Leveraging emerging innovations and deep roots in advanced U.S. military research, Silvus Technologies provides wireless communications systems that work in the world's most challenging conditions for high stakes industries like military, law enforcement, and broadcast. The powerful implementation of mesh technology found in Silvus radio sets a new standard for video and data transmission in urban, remote, highly-mobile, high-scatter and at-sea environments.
"The work we do at Anduril is mission critical – there is no room for error. We chose to partner with Silvus because their radios are easy to configure, are reliable, and have a robust system design that is near unbreakable," Matthew Steckman, head of corporate and government affairs, Anduril. "Further, their white glove service for all their products reduces time spent troubleshooting, maximizing our ability to rapidly field technology."
"Increasingly challenging real-world usage requirements are driving the need for long-range, mobile and non-line of-sight communications that can transmit a greater volume of HD video, voice and telemetry data than ever before," said Babak Daneshrad, PhD, chairman and founder of Silvus Technologies. "The products that Anduril produces are radio critical and rely on dependable, world-class technology that integrates seamlessly. We're proud that our partnership is supporting Anduril's pioneering, life-saving AI platforms for protecting troops, performing search & rescue missions, and more."
Mobile Networked MIMO (MN-MIMO) is a state-of-the-art waveform that solves many of the problems that face today's wireless systems, such as limited range, poor performance outdoors and interference. Silvus's Mobile Networked MIMO technology (MN-MIMO) was developed as a result of over 15 years of advancements and more than $60M in U.S. government-funded R&D and commercial IRAD in the areas of MIMO and Mobile Ad Hoc Networking (MANET). This breakthrough waveform is a blend of Coded Orthogonal Frequency Division Multiplexing (COFDM), Multiple Input Multiple Output (MIMO) antenna techniques and Mobile Ad Hoc Networking (MANET) to deliver digital communications with performance and flexibility.