Intelligent Energy, a leading developer of PEM (proton exchange membrane) fuel cell technologies for drones and Unmanned Aerial Vehicles (UAVs), has partnered with Unmanned Systems Technology ("UST") to demonstrate their expertise in this field. The 'Silver' profile highlights how their lightweight, power-dense UAV fuel cell modules allow customers to bypass the constraints of traditional battery technology, significantly extending drone flight times and ranges while producing clean DC power.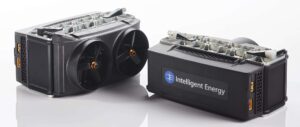 Fuel Cell Power Modules (FCPMs) for UAVs provide clean, efficient DC power from only hydrogen and ambient air, with zero emissions. With a higher energy-to-mass ratio than traditional battery systems, they can provide commercial UAVs with over three times the flight endurance, allowing users to maximise productivity, minimise downtime and achieve more in a single drone flight.
Intelligent Energy FCPMs are available with 650W and 800W power outputs, as well as the company's latest 2.4kW fuel cell power module. They can be integrated into a variety of multi-rotor and fixed-wing UAV platforms, and can directly replace the UAV's existing battery in many applications.
Two 2.4kW modules can also be linked in parallel to provide up to 4.8kW of power without the need for additional hardware. The module provides continuous power to the UAV and is hybridised with a small battery to manage peak loads.
The Power Path Module (PPM) is a proprietary design that facilitates the linking of two of Intelligent Energy's FCPMs in series with convenient plug-and-play operation. Already surpassing the output of traditional batteries when used singly, UAV FCPMs can be connected together in pairs to provide even greater power output for larger UAVs that can support heavier payloads.
The PPM is compatible with any two identical modules from Intelligent Energy's UAV FCPM range. The PPM can be configured for single or dual regulator operation, allowing users to power the FCPMs from one or two hydrogen cylinders.
To find out more about Intelligent Energy and their fuel cell technologies for drones and UAVs, please visit their profile page:
https://www.unmannedsystemstechnology.com/company/intelligent-energy/