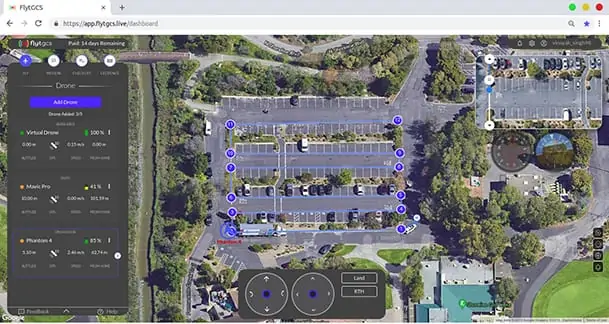 Drone software solutions provider FlytBase and airspace intelligence platform AirMap have announced that the two companies have partnered to speed up the introduction of unmanned traffic management (UTM) technologies into enterprise drone automation solutions. Both companies believe that the future of drones requires close collaborations involving world-class technology and a commitment to safe, secure unmanned aerial vehicles (UAV) operations in controlled airspace.
The commercial drone industry is expected to rapidly mature from proof-of-concept projects and pilot programs to large scale, production deployments of autonomous drone fleets. This will be powered by intelligent automation across the drone technology stack and enabled by seamless integration of capabilities from trusted members of the drone ecosystem.
Airspace intelligence and management is a critical enabler for scalable, safe, beyond-visual-line-of-sight (BVLOS) enterprise drone programs. AirMap's flexible, future-proof UTM engine will help power FlytBase offerings for a variety of use cases, including security/surveillance, transportation, public safety, and asset inspection.
FlytBase seeks to integrate AirMap's capabilities into its enterprise solutions, so that sense-and-avoid capabilities can be augmented with airspace, weather information for optimal path planning, while avoiding no-fly zones and manned aircraft. Thus, software-driven automation can enable reliable, repeatable drone missions that create value for all stakeholders. Interfacing AirMap's UTM service modules with the modular FlytBase platform (with its IoT architecture, intelligent plugins and workflow integration) will result in market-ready, end to end offerings for customers worldwide.
By leveraging AirMap's rich set of application programming interfaces (APIs), FlytBase will support its global customer base in ensuring that their enterprise drone operations put the safety of the public, and of manned aircraft, at the front and center. By adopting an open architecture philosophy, both companies seek to empower third party vendors and system integrators to build real-world applications for specific sectors, use-cases and business problems.