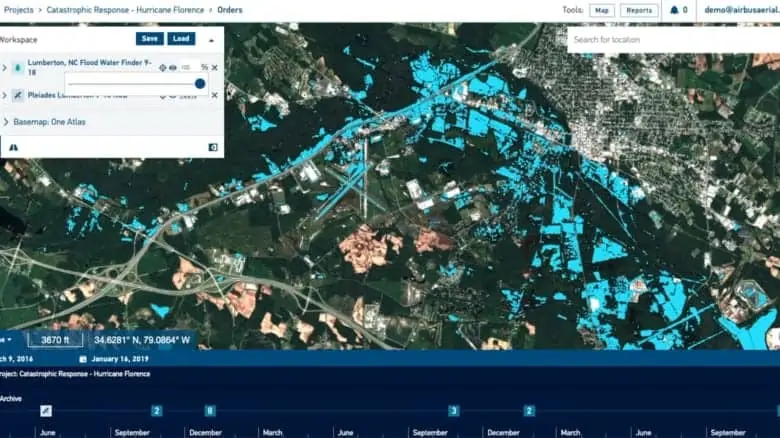 Airbus Aerial has announced the opening up of its software suite to add the ability for large enterprises and UAS (unmanned aerial system) service providers to manage the ordering, collection, processing, analysis and distribution of UAS data themselves and to deliver to their internal and external customers. This expands on the previous solutions delivered by the Aerial team to enable insurers to respond to major weather events with a full solution encompassing, drone and satellite data, analytics and custom software to enable settlements. These expanded capabilities now enable companies who want to collect data themselves has the tools they need to manage the whole process and get access to external data services when needed.
Specifically for the UAS market, this suite seamlessly connects the users' need for site-specific information, with internal company pilots and external vendors, while managing the full chain of events in-between. The Aerial suite will be demonstrated to the public during the AUVSI XPONENTIAL Annual Conference and Expo 2019 in Chicago.
"We're now making the robust set of software and operational tools we built to manage flight operations internally for our customers available to those who want to manage their own program globally, at scale," explains Airbus Aerial President, Jesse Kallman.
"From flight operations to data acquisition and storage, through to image and data distribution- our suite can help customers to manage the entire process themselves – which saves them valuable time and simplifies processes – all within a single, cloud-based platform, " Kallman said.
For many large enterprises seeking to manage UAS technologies, or to create a viable drone department, UAS technologies are especially challenging due to the diversity of domains, stakeholders, and systems that must be considered. Many important factors are involved, including: policies and procedures, airspace regulations to include LAANC and UTM, processing software, data management and data integration. The Aerial platform solves such challenges by providing its users with holistic access to imagery and data management in a one-stop, cloud-based platform. The platform also easily allows users to import their own historical data into one place for business users to access and share.
"Our suite's capabilities make it much more practical for businesses to adopt new UAS technologies at the enterprise level," Kallman said.