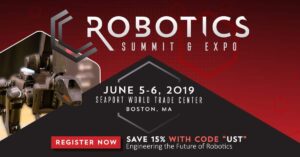 Artificial intelligence and machine learning takes center stage at this year's Robotics Summit & Expo 2019. Taking place June 5-6 2019 at the Seaport World Trade Center, Boston, MA., this multifaceted international engineering event is for designers and developers of commercial robotics systems.
WTWH Media has announced a series of keynotes and workshops dedicated to educating the robotics engineering community about the ways AI and machine learning technologies and techniques can be utilized by robotics systems to make them more intelligent, autonomous and functional. Topics include decision making, object identification, vision processing, autonomous navigation, motor control, sensor integration and other functions, as well as speech, facial and emotion recognition.
Dan Kara, VP of Robotics at WTWH Media notes, "The use of AI and machine learning to improve the functionality of robotics systems is increasing dramatically. However, the rate which new cognitive robotics technologies and services are being introduced into the market is so rapid, it is very difficult for robotics engineers to track and understand new important innovations and enablers. The result is lost opportunities. We are emphasizing cognitive robotics and intelligent machines at the Robotics Summit to address this critical challenge."
Representative cognitive robotics and intelligent machines sessions include:
Keynote: Bringing AI-Powered Robots to Life — Deepu Talla, VP and GM of Autonomous Machines, NVIDIA
Keynote: The Role of the Cloud in the Future of Robotics — Roger Barga, GM, AWS Robotics and Autonomous Services, Amazon Web Services
The Role of UX in Robotics and Artificial Intelligence — Dai Le, Robotics Product Designer, and Hamid Badiozamani, Software Engineer, Brain Corp.
Sole Agent Syndrome and Machine Learning for Human-Like Behavior — Russell Toris, Director of Robotics, Fetch Robotics
Developing Adaptive Robots That Keep Humans in the Loop — Massimiliano Versace, CEO, Neurala
Service Robots for Commercial Spaces: The Path From Autonomous to Intelligent Robots — Marcio Macedo, co-founder and VP of Product and Marketing, Ava Robotics
About The Robotics Summit
The Summit and Expo brings together the brightest minds in robotics from around the world to share their commercial robotics development experiences and expertise. Tracks in the Robotics Summit include Technologies, Tools and Platforms; Design and Development; and Manufacturability, Production and Distribution. For additional details and registration information, click here.