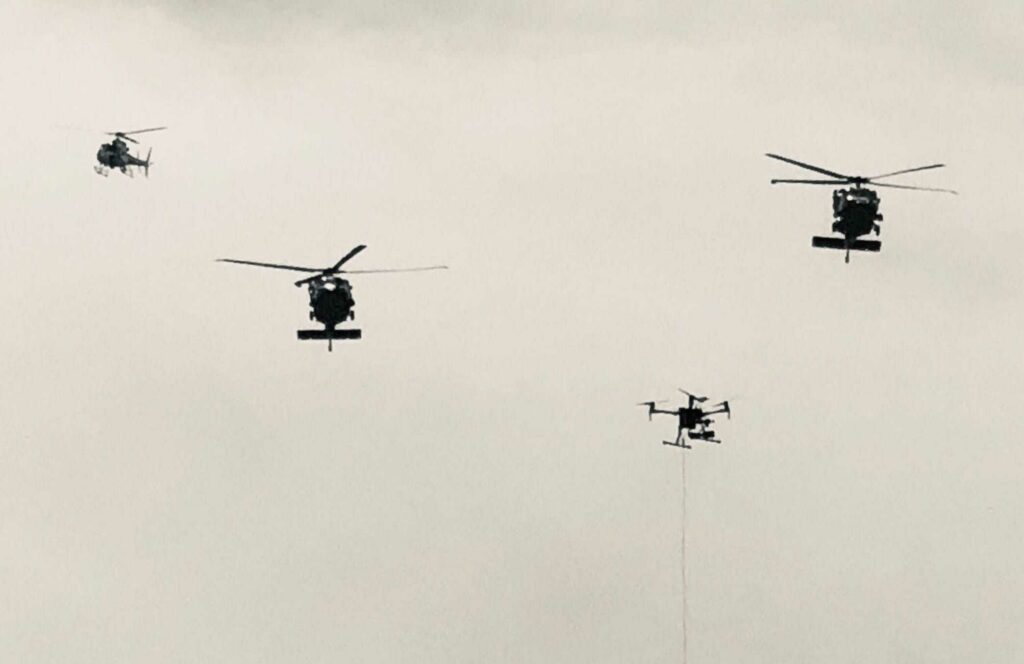 Skyfire, a public safety UAV (unmanned aerial vehicle) consulting company, in coordination with the Georgia World Congress Center Authority and the Georgia Emergency Management Agency, has announced that it deployed two tethered drones at the NFL Championship Game in Atlanta.
"This is one of the first times drones have been used to secure a large, tier 1 event," said Matt Sloane, CEO of Skyfire. "We are honored that these agencies entrusted us with overwatch for one of the biggest events in our state's history."
Based in Decatur, Georgia, just seven miles from the Mercedes-Benz Stadium, Sloane and his team worked for more than a year to secure the necessary approvals from the FAA, the FBI and the Department of Homeland Security to operate for the event.
"It was interesting to coordinate and fly drones just a few hundred feet below Black Hawk helicopters," said Sloane, "and we were just a few thousand feet from the biggest sporting event in the world."
The team worked closely with the State of Georgia's air operations support center and was in constant communication with the FAA and the FBI to ensure the safety of the operation.
Sloane also had Mike Briant on his team, a veteran law enforcement and counter-terrorism specialist from the Skydas Group, to help determine areas of interest and concern.
"Real-time, actionable information for the guys on the ground is essential and allows you to respond much more quickly to a critical incident than you could having to rely on traditional aviation assets," said Briant. "The drones allow security specialists to spot unusual behavior long before they reach the main venue."
Each of the setups consisted of the DJI Matrice 210 aircraft, a Zenmuse Z30 zoom camera, as well as the DJI/FLIR Zenmuse XT2 thermal imaging camera. Each drone was flown to a maximum altitude of 200 feet above ground and was secured and powered by Drone Aviation Corp's FUSE tethering system.
The video feeds were streamed through the DroneSense software platform and viewed by law enforcement command centers in over a dozen locations.
Find suppliers of Tethered Drone Solutions >
"Drones can help make large events like this one safer by gathering information in a way that no other platform can," said Ryan Bracken, business development lead for DroneSense and a former FBI special agent. "But that intelligence, whether it's a video stream or other data, has to get to the right people in real time to make it usable, and that's where our software excels."
Sloane says this is the first of many large-scale events his team plans to respond to and looks forward to working with federal law enforcement and the FAA to demonstrate how drones can be used effectively and safely around massive crowds of people.
"This technology is game-changing and although big federal agencies have a slew of helicopters with many of these same sensors, there are areas that are just too small or unsafe for large manned aircraft," said Sloane. "Drone technology is the perfect adjunct to helicopters and allows us to exponentially increase security flights without adding significant cost."