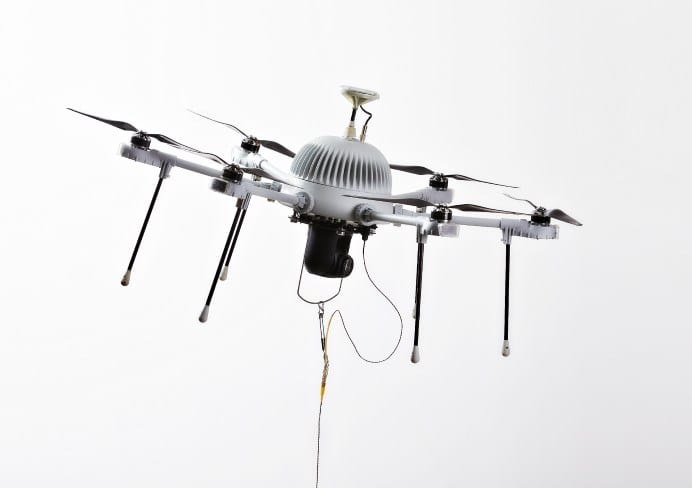 Aria Insights, a developer of autonomous robotic data collection platforms, has announced its launch. Using artificial intelligence (AI), Aria aims to more effectively harness data collected by drones and keep users safe in the process. Formerly known as UAV (unmanned aerial vehicle) developer CyPhy Works, Aria Insights is expanding upon CyPhy's tethered drone legacy by integrating AI and machine learning software into its drones. The company will provide customers with intelligent, autonomous drones that both collect and analyze data to create actionable insights for users. The decision to place an increased focus on artificial intelligence comes from years of industry experience identifying that the power of drones is limited only by the use and understanding of the data they collect.
Aria Insights deploys drones and AI to remove humans from unsafe situations. Smarter data collection and machine learning enable decision makers to quickly and efficiently address a problem or execute a mission, while ensuring human lives are not put at risk. With sophisticated analytics, decision makers no longer need to spend hours capturing and watching video; instead, Aria Insights' robots will identify information of interest, send an alert when new information is detected, and ultimately connect all of the data to a digital 3D map.
"After 10 years of innovating and redefining drone technology, the team at CyPhy saw the limitations facing the industry – namely the complications and risks of retrieving and analyzing data," said Lance Vanden Brook, CEO of Aria Insights. "A number of our partners were collecting and housing massive amounts of information with our drones, but there was no service in the industry to quickly and efficiently turn that data into actionable insights. Moving beyond just a hardware provider, Aria is now a full-service solution that not only meets customers' aerial needs, but also processes analytics that enable insightful decision making."
Aria Insights' new machine learning capabilities enable users in the public safety, oil & gas, and other commercial sectors to collect data and turn it into actionable plans. Equipped with artificial intelligence capabilities, Aria's drones will perform fully autonomous missions to make it easier to identify features of interest across multiple use cases. For example, its drones can aid in the maintenance of confined spaces, such as oil tankers or pipelines, enabling operators to identify areas that need repair without sending humans into potentially dangerous working conditions. Aria's drones can also monitor the development of a natural disaster and alert first responders of increased action in a certain area, as well as notify event organizers when portions of a crowd may need more supervision.
Amy Villeneuve, Chairman of the Board at Aria Insights, said: "Our history as CyPhy Works has enabled us to propel our business to new heights with the launch of Aria Insights. The same group of talented, innovative thinkers who delivered best-in-class tethered drone technology and autonomous flight at CyPhy will continue to push the bounds of the drone industry at Aria. Building upon our past success and knowledge, Aria Insights provides commercial markets with a full-service drone solution that combines the power of autonomy and machine learning to change the landscape of the drone industry."
CyPhy's flagship product, the Persistent Aerial Reconnaissance and Communications platform (PARC), will continue to be available from Aria Insights. Aria also plans to launch new technology to solve the needs of its commercial partners and ensure greater safety of users.