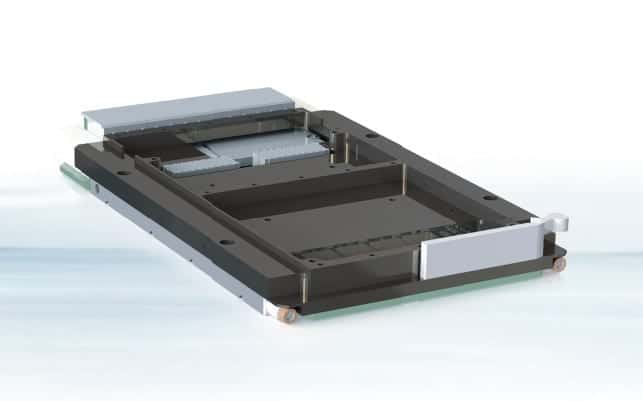 Kontron, a developer of Internet of Things (IoT)/Embedded Computing Technology (ECT) products, has announced its new VX305C-40G 3U OpenVPX single board computer module. Building on its successful VX3058 and VX305C products, and developed in alignment with the SOSA Technical Standard, the VX305C-40G is the first instance of a new fully-defined OpenVPX SBC profile which marries a 40 Gigabit Ethernet (GbE) port and a wide assortment of user I/O to the powerful 12-core version of the Intel Xeon D processor. The VX305C-40G is designed for high performance battlefield server-class computing and digital signal processing (DSP) applications, such as unmanned aerial vehicle (UAV) radar and imaging.
Designed to the soon-to-be-released VITA 65 slot profile SLT3-PAY-1F1F2U1TU1T1U1T-14.2.16 (known as the "I/O Intensive SBC profile"), the VX305C-40G combines the computational power of the 12-core Intel Xeon D-1559 processor with a wide assortment of I/O, most notable being a 40 GbE Data Plane. This combination in an OSA platform makes it ideal for demanding military sensor platforms and other high performance embedded computing (HPEC) applications. This holds true especially for virtual machine or containerized architectures that can take advantage of the extensive capital and operational efficiencies provided by isolated workloads configured to dynamically share common resources.
"Kontron is committed to providing industry-leading products in support of Open Systems Architecture efforts, both in the US DoD and worldwide," says Andy Mason, VP/Head of Technology Platforms at Kontron. "The VX305C-40G is the first of what should be a long line of products designed for OSA platforms which will, in time, both drive down lifecycle costs and promote more rapid technology refreshes for critical and demanding defense platforms. The result being, better and more innovative applications and capabilities for the warfighter."
The Kontron VX305C-40G leverages the Intel Xeon D-1559 processor, which provides best-in-class computation performance for demanding signal and image processing applications. The VX305C-40G combines that with a 40 GbE Data Plane, dual 10 GbE Control Plane, four-lane PCI Express (PCIe) 3.0 expansion plane to the backplane for system I/O. User I/O includes USB (2 and 3), video (HDMI, with DisplayPort available in 2019), SATA 3, Serial Ports (TIA-232 and TIA-422), GPIO, an M.2 site for storage or for integration of customized personality modules, and an XMC site with a wide backplane signal map. The system is a versatile 3U SBC platform in a ruggedized package for harsh size, weight, power and cost (SWaP-C) constrained environments.
Other features of the VX305C-40G include a Kontron-designed VITA 46.11 compatible Intelligent Platform Management Controller (IPMC) to provide system-wide health management, sequenced system power-up and Temperature/Power/Performance management. To complement this, the VX305C-40G offers a Power-On Built-in Test (PBIT) that gives designers a comprehensive package for board and system diagnosis. An additional layered product includes CMON, a lightweight, user-configurable, continuous system monitoring tool.