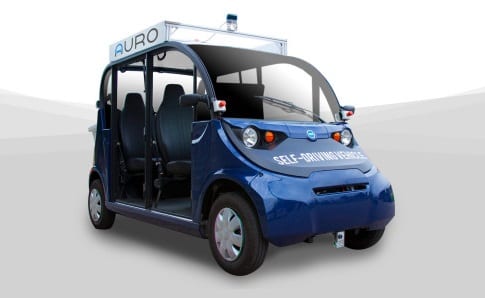 Ridecell Inc., a platform for mobility operators, has announced that its self-driving vehicle division, Auro, is now licensed to test autonomous vehicles on public roadways in California.
"Receiving a California autonomous testing permit signals an important expansion of our new mobility product offering," said Aarjav Trivedi, CEO of Ridecell. "Ridecell's successful ridesharing and carsharing fleet management platform will now expand as our Auro division begins operations testing of self-driving passenger cars and minivans on public streets in cities across California."
Ridecell began offering self-driving vehicle solutions with its acquisition of Auro. Auro first developed and operated driverless shuttles for private geo-fenced locations, such as corporate parks and university campuses. Auro is now expanding its autonomous product offering to include passenger vehicle models and mini vans, which will operate on public roads alongside existing vehicle traffic.
Auro's L4 autonomous driving vehicles will initially target low speed urban use cases focused on solving last mile transportation. Designed to improve today's carsharing operations, these use cases include late night carshare fleet rebalancing to high demand urban locations, as well as fleet movement for parking, cleaning and maintenance.
Combining 3D Lidars, cameras, navigation sensors and high accuracy 3D mapping with proprietary software algorithms, Auro's autonomous vehicle technology is hardware and vehicle agnostic. The company's real world trials will start on Ford Fusion vehicle platforms equipped with Auro's Autonomous Driving System.
"This next step in our corporate development allows Ridecell to serve an even broader segment of the new mobility industry," explained Nalin Gupta, Director of Business Development, Auro. "Today our broad product offering includes self-driving vehicle technologies and comprehensive cloud-based fleet operations management. Ridecell has become a single source for all the required components that enable our customers to offer either driver-operated or autonomous on-demand vehicle services to their users, all using a single user app and a single cloud-based fleet management platform."