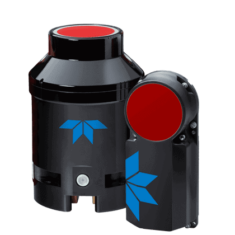 Teledyne RD Instruments (TRDI) has announced the release of a new proprietary Extended Range Tracking (XRT) option which is capable of extending the bottom tracking range of the company's Pathfinder and Pioneer Doppler Velocity Logs (DVL) by 60%. This latest development allows users to attain bottom lock faster and more efficiently than ever before, further increasing user control and confidence during subsea missions with autonomous vehicles such as ROVs (remotely operated vehicles) and AUVs (autonomous underwater vehicles).
Extensive in-house and customer testing has proven this extended range in a wide array of conditions and terrains, and has exceeded design expectations. Grant Jennings, Director of Navigation product line at TRDI explains: "We have seen an increase in smaller vehicles operating to greater depths. Our 38kHz DVLs can bottom track to over 2,500m and our 150 kHz DVLs can bottom track to over 500m, but these products are too large to use on the emerging smaller class vehicles. TRDI's 30 years of Doppler signal processing experience has allowed us to develop a new algorithm that combines the strengths of narrowband with our proven broadband signal processing, giving us the unique combination of the improved range of a narrowband signal, with the proven reliable bottom detection of a broadband signal."
Teledyne RDI's DVLs provide precision navigation solutions for subsea vehicles. The new XRT option is available with new DVL sales, or as a convenient firmware upgrade for customers with existing Pathfinder or Pioneer DVLs.