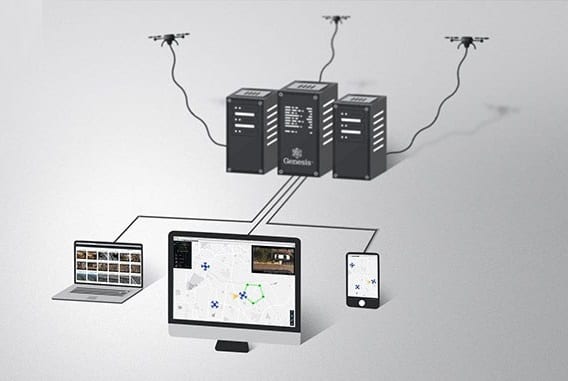 Asteria Aerospace, a manufacturer of surveillance & security drones, has announced the launch of Genesis, an industrial IoT (Internet of Things) network platform for unmanned aerial vehicles (UAVs). Genesis is a secure enterprise software platform to enable organizations to effectively use and manage fleets of drones in surveillance & security operations.
Genesis allows authenticated users to login from any device, anywhere, and view video, images, sensor and telemetry data from multiple drones in real-time. Moreover, the data from the drones is automatically stored and managed on the platform for search and analysis.
Genesis makes it possible for a police force to have several drones deployed over a city for event security and the live video feed from all the drones to be broadcast to a central command center. Decisions made at the command center can be relayed to the drone operators or quick response teams through the same platform, ensuring that everyone shares the same picture of the operation.
Neel Mehta, Managing Director at Asteria Aerospace, explained the idea behind building such a product: "Genesis eliminates the gap between information and action for drone-based surveillance workflows, by bringing data from multiple drones to key decision makers and response co-ordinators in real-time. We see this capability as a tremendous force multiplier for our military, paramilitary, police, first response and industrial security customers who are using or planning to use drones in their daily operations."
The Genesis platform has already been used by the West Bengal state police force for event security during the Durga Puja 2017 and Gangasagar 2018 festivals. This allowed live monitoring of video feeds at their Kolkata headquarters, from drones deployed in multiple districts.
Aneesh Muralidharan, Product Manager for Genesis, said: "Genesis has been developed in-house by Asteria over the past two years and it can be readily customized and integrated with third-party sensors and applications to build sophisticated security solutions. Our vision is to expand the capabilities of Genesis to evolve it into an intelligent data aggregation platform for smart security."
Genesis is available as a deployment-ready Software-as-a-Service (SaaS) platform.