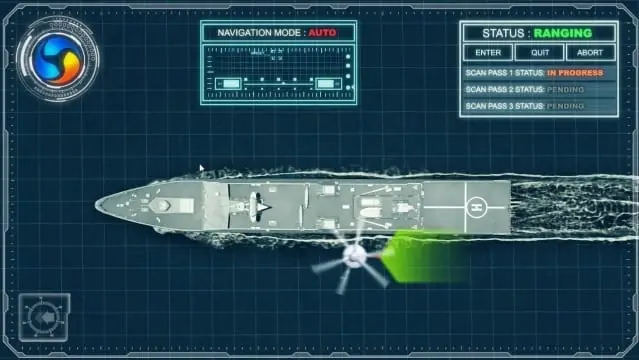 ECA Group has announced that the Indonesian Navy has deployed the company's new drone-based solution for checking the magnetic signature of a vessel in order to assess its vulnerability against underwater mines and other threats. STERNA is the first UAV (unmanned aerial vehicle)-based portable aerial magnetic solution used by a navy in operational conditions.
STERNA is based on ECA Group's IT180 drone platform, a compact, high-performance VTOL mini-UAV. The system incorporates a magnetometer and digitizer, which are part of a set-up used for degaussing systems in compliance with NATO standards. STERNA is able to measure the magnetic signature of vessels.
To perform a magnetic measurement using a drone the key points are:
Use the normal of the magnetic vector instead of the three axis relative components
Know how to compensate for the drone's own magnetism
Know how to correct sensor errors
The last two points are ensured through an algorithm and calibration figures which have proven their efficiency on real vessel measurements. Consistent magnetic signatures have been computed from these measurements, applying sensor data optimisation and carrier effect compensation and recalculating the components using a multi-dipolar model (plane of dipoles at the sea surface). ECA Group's solution was also able to measure coil effects of a degaussing system.
STERNA can be used for different types of magnetic measurements, such as measuring submarines with Magnetic Anomaly Detection, with the height of flight chosen to be in the simple dipolar area of the submarine but close enough to obtain a signal. Direct computation of MAD risk requires at least three runs to check the vessel's magnetic signature (with or without a degaussing system), with the height of flight chosen to avoid vessel's superstructure and local magnetic effects but close enough to obtain a signal .
Using the IT180 UAV, the measurement of a vessel's magnetic signature was completed in less than one hour under operational conditions, while traditional methods require immobilisation of the vessel over a period of several days.
"Using the latest technology certainly has an impact on effectiveness and efficiency without reducing the purpose and the objective of the test, so using STERNA will be much faster than the old method and will provide us with more accurate results," said Colonel Anis Kelaikan, Indonesian Ministry of Defence.
"Further developments have been done and will be continued in order to optimize its performances for operations at sea," commented Guénaël Guillerme, CEO of ECA Group. "The IT180 UAV mini-drone navalisation project is in ECA Group R&D roadmap for Naval Forces. It should bring a new carrier called IT200N by 2020."