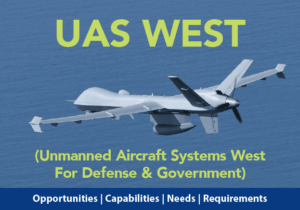 Technology Training Corporation will hold their UAS West 2018 conference September 12-13 in San Diego. The conference — a technical symposium establishing a dedicated platform for Government, DoD, and Industry — will feature over 20 UAS SMEs presenting the future of UAS Plans, Capabilities, Needs and Requirements for DoD, Government and Industry.
Over 20 UAS DoD/Government & Industry Guest Speakers Presenting the rapidly evolving Unmanned Aircraft technologies needs, capabilities and requirements including:
Emerging UAS DoD and Government Needs, Requirements & Capabilities from: DHS, Army/TRADOC, USAF Combined Test Force, USN, USMC, NASA, PACOM, and many others to brief the audience.
Snapshot of the Technical briefings to include:
Major UAS Program Updates and Emerging Platforms Needs, Capabilities, & Opportunities
National Airspace – Detect & Avoid and Counter UAS
Cutting-Edge Mission Opportunities and Updates Within Homeland Security
Customs & Border Protection, Maritime Security, and FAA
Confirmed UAS West 2018 Speakers:
Mr. Bryan Scurry, SES, Executive Director, Commander, Naval Air Forces, Commander, Naval Air Force US Pacific Fleet
MR TED MACIUBA, Deputy Director, Robotics, U.S. Army, Maneuver Center of Excellence (MCoE)
JOHN FIORE, SES,Technical Director, Naval Surface Warfare Center, Dahlgren Division (NSWCDD)
CARLOS CORREIA, Deputy Product Manager, Tactical Unmanned Aircraft System, PM, Unmanned Aircraft Systems, PEO Aviation
COL THOMAS von ESCHENBACH, USA, Director, Capabilities Development and Integration Directorate, U.S. Army Aviation Center of Excellence
RICK LOBER, Vice President and General Manager, Hughes Network Systems, Defense and Intelligence Systems
COMMANDER (USN-ret) CHRIS "PYRO" FITZGERALD, Contract Support, Commander Naval Air Forces, Pacific (N809A), (COMNAVAIRFOR  CNAF), UAS Requirements
UAS OPERATIONS SME, USAF, 432d, Air Expeditionary Wing Group, Creech Air Force Base
TAD MCGEER,Founder and President, Aerovel Corporation
MAJOR DAVID "UNO" APARICIO, USAF, Director, Emerging Technologies, Combined Test Force (CTF)
MARK FARRAR,Director of Training, U.S. Army Training Center, 2-13 Aviation Regiment, FT. Huachuca
LT COL CHRISTOPHER LINTON, USAF, 163d Operations Group , ATKW
CAPTAIN (USN-ret), GEORGE GALDORISI, Director, Strategic Assessments and Technical Futures, SPAWAR Systems Center Pacific
CHIEF DAVID NISLEIT, San Diego Police Department
DAVID BARNETT, Vice President of Products and Markets, RTI, Inc.
JON SCADDEN,Account Executive. Federal, PureStorage, Inc.
LT COL PETER "PEPE" LEHEW, Modern Technology, Solutions, Inc., Senior Consultant to Air Force Research Lab, Center for Rapid Innovation.