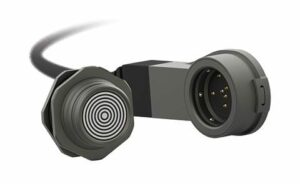 Fischer Connectors has announced the launch of its new Freedom Series, which offers breakthrough plug & use connectivity solutions that are easy to use and integrate. These new solutions are designed for portable and IoT (Internet of Things) applications in a wide variety of markets such as defense, security, medical, industrial and civil engineering.
The low-profile, rugged Fischer LP360, the first product in the Fischer Freedom Series, has 7 signal and power contacts with USB 2.0 and Ethernet, and offers the following features and benefits:
No key code: 360° mating freedom & optimized cable management
Blind-mate, non-magnetic ball locking with variable force
Membrane-sealed contacts, fully cleanable (plug and receptacle)
IP68 sealed to -20m/24h
Low profile, right-angled plug
Wearable integration OR panel mounted (receptacle), easy cable assembly OR direct integration into device (plug)
Breakthrough 360° mating freedom enables the Fischer LP360 to be plugged and routed in any direction, so the cable can always go straight to the device. It is also possible to opt for cable-free solutions by integrating the plug directly into the device's housing.