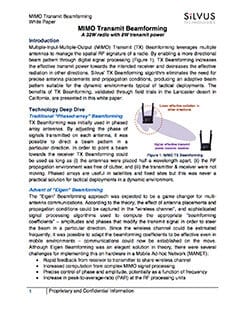 Silvus Technologies, a leading developer of wireless connectivity solutions for unmanned systems data and video transmissions, has created a whitepaper presenting the benefits of its Multiple-Input-Multiple-Output (MIMO) Transmit (TX) Beamforming technologies.
Silvus' MIMO TX Beamforming increases the effective transmit power towards the intended receiver and decreases the effective radiation in other directions, eliminating the need for precise antenna placements and propagation conditions and producing an adaptive beam pattern suitable for the dynamic environments typical of tactical deployments of UAVs and other unmanned vehicles. The innovative technology delivers up to 6dB improvement in signal strength.
Download the whitepaper by Silvus Technologies here
The whitepaper details the theory behind TX Beamforming, as well as the operational advantages in Line-of-Sight (LOS) environments, Non-Line-of-Sight (NLOS) environments and covert/Electronic Warfare (EW) applications.
Silvus' extensive field trials, the experimental details of which are also covered in this whitepaper, have confirmed that TX Beamforming provides the link performance of a 32W MIMO radio with the power consumption of an 8W MIMO radio. For more information on how this technology can benefit unmanned systems radio communication, download the whitepaper here.