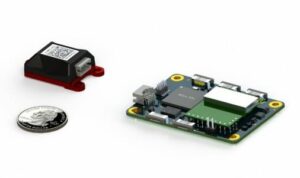 Sparton Corporation has announced the release of the INS-20, a MEMS-based Inertial Navigation System (INS) that integrates SAASM GPS with the heading accuracy of the Sparton AHRS-M2.
The INS-20 provides fully compliant Selective Availability Anti-Spoofing Module (SAASM) GPS security with an onboard SAASM receiver. The system integrates SAASM GPS input with sensor input from the AHRS-M2 to provide a robust INS capable of operation in GPS deprived or denied environments. The INS-20 is also capable of integrating multiple serial inputs from external sensors, allowing them to operate as part of a unified navigation system.
The INS-20 is a compact, low power INS that provides full self-location and navigation capability including latitude, longitude, altitude, heading, pitch, roll, and velocity. Ideal for SWaP-C requirements, the INS-20 is compact and weighs only 31 grams with low power consumption of 1W.
"The INS-20 really is one of a kind," said Jim Lackemacher, Group Vice President of the Engineered Components and Products Segment. "No other inertial navigation system in its class provides the feature set of the INS-20 in such a compact and versatile package."
Benefits of the INS-20:
Integrated SAASM GPS and Sparton AHRS-M2
Operates in GPS denied/degraded environments
Easily integrates additional external sensors and inputs for a unified navigation system operation
Compact size and weight and low power ideal for SWaP-C applications
Ideal for Assured Positioning, Navigation, and Timing (A-PNT) and hand-held or mounted optical targeting systems
Features of the INS-20:
Selective Availability Anti-Spoofing Module (SAASM)
SAASM GPS coupled to Sparton AHRS-M2 through AdaptNavTM filter algorithm
Sparton AdaptCal 3D adaptive in-field calibration with hard and soft magnetic interference compensation
Improved GPS tracking with position data output rate of 100 Hz
Static Heading Accuracy of 0.2° RMS
Extended performance in a jamming environment – 41 dB while tracking – 24 dB in acquisition
Small form factor of only 31 g for combined system
Full 360° rollover capability using quaternions or rotation matrix
"Figure of Merit" real time heading error indicator
Quality of in-field calibration indicator