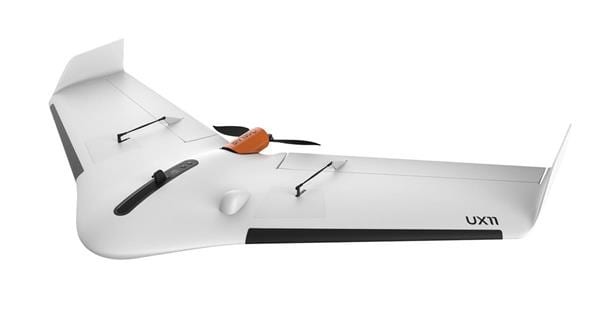 Delair, a supplier of commercial drone solutions, has announced the availability of its newest unmanned aerial vehicle (UAV) solution, the Delair UX11. The autonomous aircraft enables increased efficiency, accuracy and productivity to enterprises in how they collect and analyze data that is critical to their operations. The Delair UX11 fixed-wing drone provides precise views over large areas, enabling cloud-based machine learning analytics that derive real-time and impactful business intelligence.
The drone's efficient operational characteristics make it an ideal solution for companies with dispersed assets or that require aerial viewing capabilities, including surveying, construction, oil & gas, utilities, mining, agriculture and transportation. It can be used for a variety of imaging, mapping, monitoring and maintenance tasks not previously practical or possible with other terrestrial or airborne approaches.
"Several factors are lining up to accelerate the use of commercial drones in all kinds of businesses, including the establishment of government regulations, technological improvements in UAVs, and economic pressures on companies to improve operational efficiencies. But the common challenge we see in the market is the need for an easy-to-use, cost-effective solution that produces actionable insights. Our latest model drone platform has been developed to address those requirements and break new ground in terms of what can be done with a drone, as well as who can operate it," said Benjamin Benharrosh, co-founder and head of North American operations at Delair.
The Delair UX11 combines a number of features and design innovations that make it ideally suited for productive operation quickly in a variety of conditions and flight requirements including, where allowed, beyond visual line of sight (BVLOS) operations.
The new model consists of a portable lightweight (1.4 kg) and modular hardware frame that is easy to assemble. The drone features BTOL (bird-like take-off and landing) for steep-climb take offs and descents in confined areas, can remain airborne for up to an hour, and is capable of covering 500 acres in a single flight. Pilots can control the drone through either 2.4 GHz wireless communication or available 3G/4G cellular networks.
The UX11 drone is controlled and monitored with an intuitive software workflow before, during and after the flight. The Delair Flight Deck software can be run from standard Android tablets and allows quick mission planning and pre-flight checks. Once airborne, real time monitoring gives pilots flexibility to adjust flights and camera settings, as well as see and verify results as they are collected to ensure the highest quality images are obtained. Post-flight analytics can be quickly performed through integration with popular software applications.
The UX11 features an embedded smart global-shutter camera that produces high quality and accurate results, with up to 1 cm of precision from a height of 400 feet. The camera can be controlled while in flight, making mission adjustments and data quality monitoring an efficient process.
"The Delair UX11 sets a new standard of efficiency, cost and quality in a long-range UAV platform. The drone itself is truly state-of-the-art in its design and construction, and it enables industry-leading performance and flight range, as well as streamlined maintenance, advantages that all reduce costs. The integrated processing capabilities are able to ensure image quality in real time and provide users with accurate results that shape critical operational decisions and strategies. And it's designed for flexible use in a variety of conditions and use models, further lowering TCO," noted Benharrosh.
The Delair UX11 is built to be future proof, with an open and extensible electronics infrastructure that can be easily upgraded and incorporate new features as they are developed.