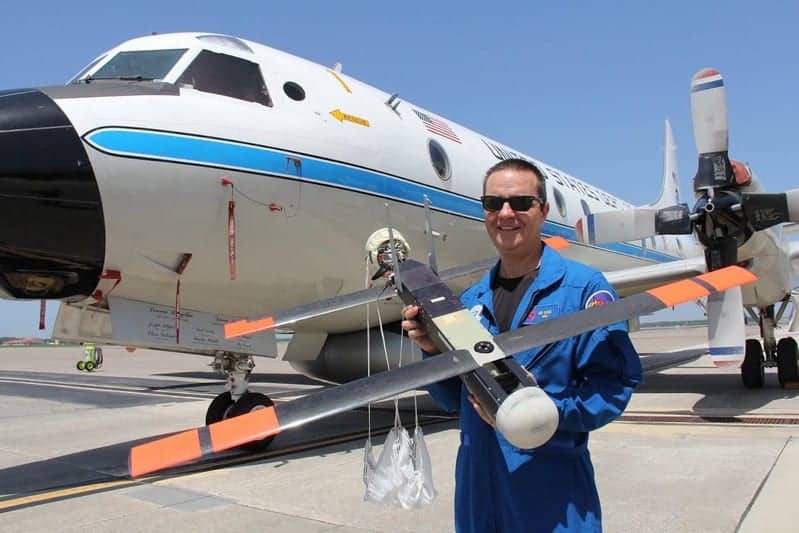 Raytheon Company and the National Oceanic and Atmospheric Administration (NOAA) have announced that they have received Aviation Week magazine's Laureate award for using the Raytheon Coyote unmanned aerial vehicle (UAV) to provide near-real-time, potentially life-saving data during hurricanes.
Developed for the military, Coyote is a small, expendable UAV that is air- or ground-launched into environments too dangerous for manned aircraft. The system can fly for more than an hour and up to 50 miles from its host aircraft.
"Weather forecasters are able to better understand storm behavior and improve hurricane models based on the real-time information provided by our Coyotes," said Dr. Thomas Bussing, Raytheon vice president of Advanced Missile Systems. "Coyote UAVs are collecting and delivering robust storm data that could ultimately save lives."
Last year, NOAA researchers deployed six Coyote UAVs to track and model Hurricane Maria. Launched from a NOAA WP-3D Orion hurricane hunter aircraft, the Coyotes flew directly into the storm, giving researchers an unprecedented view of Maria.
Traditional weather instruments are dropped from planes and capture only a snapshot of storm behavior, but Coyote's winged design allowed it to linger and return to key areas of a hurricane to gather more data and transmit it near-real-time to researchers.
"We think unmanned technologies that explore dangerous and difficult to observe regions of the storm may improve our physical understanding, provide enhanced situational awareness and might ultimately improve the accuracy of hurricane intensity forecasts in the future," said Dr. Joseph Cione, a hurricane researcher at NOAA's Atlantic Oceanographic and Meteorological Laboratory and principal investigator of NOAA's Coyote project. "The Coyotes we deployed in Hurricane Maria collected critical, continuous observations in the lower part of the hurricane, an area impossible to reach with manned aircraft."
The Coyote UAV was first deployed in 2014, when NOAA launched four of the systems into Hurricane Edouard, a Category 3 storm. Scientists on board the aircraft collected meteorological data in both the eye of the storm and the surrounding eye wall.