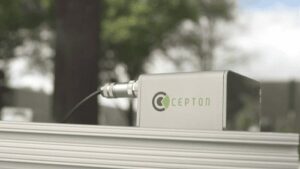 Cepton Technologies, Inc., a provider of 3D LiDAR solutions for automotive, industrial and mapping applications, has announced that it has unveiled its Vista LiDAR sensor for the autonomous vehicle market.
The Vista LiDAR sensor is a 120-line-equivalent scanner that delivers 200 meters of range and 0.2 degrees of spatial resolution. The Vista LiDAR is significantly smaller than many solutions on the market and uses fewer than 10 watts of power. This allows automakers to seamlessly integrate LiDAR technology into the vehicle body.
The Vista sensor is the fourth LiDAR product developed by the Cepton team over its first 20 months in operation. Built on Cepton's patented micro-motion technology (MMT) platform, Vista has no rotational or frictional parts, consisting only of high maturity automotive components for expedited automotive grade certification. Vista LiDAR samples currently available for Cepton's automotive partners to evaluate in their self-driving fleets. Automated volume production will start in Q2, 2018.
"Performance is very important for our automotive customers, but when it comes to scale deployment, everything matters. Vista provides an unmatched combination of small size, low power, long range and high resolution," said Dr. Mark McCord, VP of engineering and co-founder, Cepton. "For those who pursue all levels of autonomous driving, active safety or mapping applications, Vista is the most cost-effective solution for deployment at scale."
"As an early and current customer of Cepton, we continue to be impressed by their ability to build a product that lands in the sweet spot of performance, reliability, size, power consumption and price," said Edwin Olson, CEO and co-founder, May Mobility. "Vista is a great solution for our self-driving vehicles, and Cepton's focus on getting a great product into market quickly makes them a natural partner for us."
In collaboration with NVIDIA, Cepton leverages the NVIDIA DRIVE platform for advanced processing of LiDAR data. This AI supercomputer combines deep learning and sensor fusion to accurately paint a full, 360-degree environment representing dynamic and static objects encompassing the vehicle.
"Automotive LiDAR like Cepton's is a key sensing technology to enable self-driving efforts," said Glenn Schuster, senior director, technical marketing, NVIDIA. "LiDAR generates a massive amount of data and needs the compute horsepower of an AI supercomputer to understand what is around the vehicle."