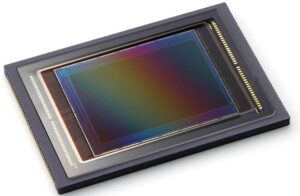 FRAMOS has announced the availability of Sony Semiconductor Solutions' new consumer-grade ultrahigh resolution CMOS image sensor, the IMX211. Designed for applications such as UAV (unmanned aerial vehicle) surveillance and industrial inspection, the IMX211 is a 4.2" format (67mm diagonal) sensor capable of shuttered and shutter-less operation. The primary operating modes are the 14bit 101Mpixel at 2fps and the 16bit 101Mpixel capable of 0.85fps.
Chris Donegan, Head of North American Sales at FRAMOS, said: "With its very high resolution of over 100 Megapixels, the consumer-grade sensor SONY IMX211 can be used to shoot high-quality surveillance images for improved picture analysis, a crucial security feature. This increased resolution is an enabling technology in industrial environments and aerial imaging such as drone applications. The sensor comes with Rolling Shutter function in its video modes. It also provides a global reset for maximum picture quality with a mechanical shutter."
Although the sensor is primarily an ultrahigh resolution 'still image' sensor it has a large number of operating modes, with reduced resolution higher frame rate video modes options and various combinations of binning and line skipping. It provides camera manufacturers with practical tools excellent for end user 'framing' and sensing in preparation of full resolution image acquisition. With bit depth options from 11bit to 16bit and standard operating modes the scalable resolution and frame rates offer 101Mpixel to low resolution sensing modes with framerates in excess of 10,000fps. This sensor is designed to provide excellent image quality with all the modes required to make camera implementations practical across all application environments.
The sensor is available in both color and monochrome, with R, G and B primary color Bayer pattern on chip. The 8-channel LVDS output interface enables fast image data transition. FRAMOS provides support services for integration, development, customization, and logistics.