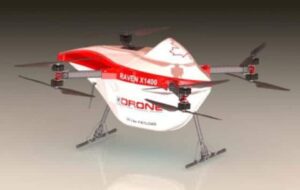 Drone Delivery Canada (DDC) has announced that it is to begin testing its Raven X1400 cargo delivery drone. The Raven X1400 is engineered to provide payload capacities of up to 25lbs and designed to fly approximately 60km. The Raven X1400 can field a larger payload compared to DDC's Sparrow X1000 drone, which had its Declaration of Compliance accepted by Transport Canada in December 2017. The addition of the Raven X1400 Delivery Drone is designed to meet the challenging weather conditions of Northern Canada and provide larger payloads should the demand for such be present.
To date, DDC has identified approximately 1000 Northern remote communities in Canada where both the Raven X1400 and Sparrow X1000 would both meet and exceed community requirements in terms of payloads and travel distances.
"We continue to develop our platform to expand our capabilities to meet and exceed client requirements," commented Tony Di Benedetto, CEO. "While doing so, we now simply just look to integrate our FLYTE Management System into a newer airframe design to expand the fleet."
The Raven X1400 is fully integrated with the proprietary DDC FLYTE management system. The Raven X1400, unlike the Sparrow X1000, will provide a dual payload configuration for both static and tethered deployment. Tethered deployment is a new technology which DDC has been developing over the past twenty-four months designed for delivery in urban settings, where the drone remains airborne and deploys its payload by tether while hovering above at a height of approximately 100 feet.
DDC will commence testing of the Raven at its in-house testing laboratory, evaluating its endurance and reliability, and will commence outdoor flights once it has passed its testing procedure and SFOC approvals from Transport Canada.