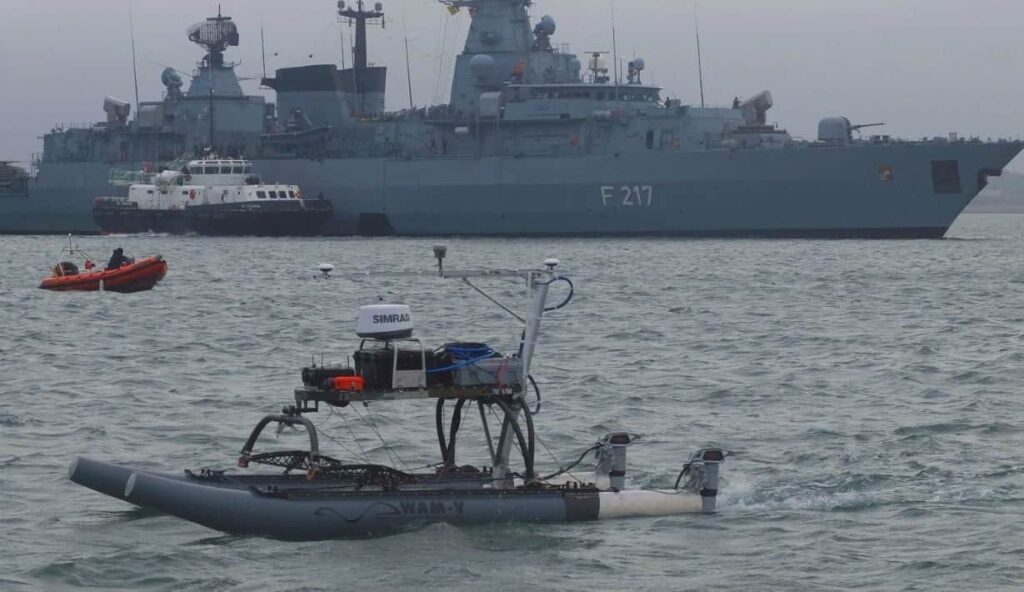 H-Scientific Ltd., a technology provider for the autonomous marine market, has announced that, working in conjunction with Marine Advanced Research Inc. (MAR), it has demonstrated mission planning, collision avoidance and sonar deployment with MAR's WAM-V (Wave Adaptive Modular Vessel) 16-foot catamaran in a recent sea trial in the UK.
Over the course of five days, H-Scientific demonstrated the control of the WAM-V in various sea states up to Wind Force 3, using its SPECTRE autopilot system. The vessel was used as a technology demonstrator for collision avoidance, navigation for survey purposes, sidescan sonar deployment, power management and remote communications.
Dr. Henry Robinson of H-Scientific commented: "This is a unique vessel and our electronics system engineering provided us with another opportunity to demonstrate the adaptability of the SPECTRE control system. We were very satisfied with its performance, it maintained a very low cross track error suitable for autonomous surveying."
Commenting on the development process, Dr. Robinson also stated: "Every vessel has its own unique challenges. Our process of simulation, electronic system engineering, and sea trialling provides us with a unique advantage of speed to market. In the case of WAM-V we were able to offer the control and navigation electronics, power management and UHF and Satellite communications."
The Wave Adaptive Modular Vessel (WAM-V) is an innovative class of watercraft (both autonomous and manned) using unique suspension technology to improve seagoing capabilities. The articulating system uses springs, shocks and ball joints to minimize structural loading. The result is a light, modular vessel that can perform in sea conditions where an ordinary boat of similar size could no longer operate.
The demonstration boat was fitted with the following H-Scientific electronics:
PMM – Power Management Module
SPECTRE 2 – Autopilot
Torqeedo twin-engine adapter
Data Logger
UHF modem interface
Iridium Sat communication interface
Differential actuator drive
Joystick and Joystick Modem
Additionally, electronics and systems from other companies were also fitted:
Simrad – 4G radar
Garmin – GPS
Raymarine – AIS (Automatic Identification System)
Torqeedo – Cruise 2000 electric outboard motors
H-Scientific provides ShipSim (Vessel simulators), SPECTRE and Micro-SPECTRE autopilots, PMM (Power Management Module) and many other electronic modules for autonomous vessels.