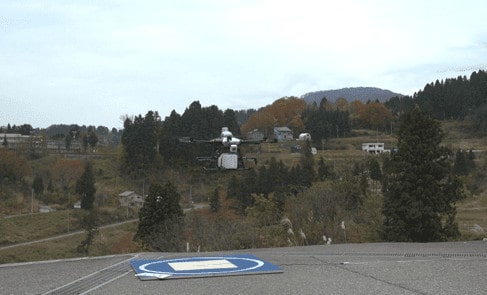 Terra Drone, a provider of industrial drone services, and KDDI Corporation, a Japanese telecommunications operator, have announced that the two companies have successfully completed a fully autonomous flight experiment with a "smart drone" using a 3D map and a drone port. The long-distance drone flight of about 6.3 km utilised the drone port to recharge automatically, and successfully returned to the landing site after spraying terraced carp ponds with pesticide.
Terra Drone and KDDI aim to establish an infrastructure that enables secure long-distance autonomous flight utilizing smart drones and a mobile communications network. This demonstration was an experiment to verify safe flight altitudes on the 3D map and automatic charging by the drone port, and proved that long-distance autonomous drone flight is technically possible.
KDDI has partnered with Terra Drone and Zenrin, a Japanese map publisher, to jointly develop this smart drones platform, which realizes safe drone flight using a mobile communications network and 3D map to set a secure flight altitude automatically. The 3D map enables a drone to recognize altitude differences in topography such as mountains, hillsand buildings. Terra Drone and KDDI accomplished automatic recognition of differences in elevation of more than 100m in this experiment.
The drone port, developed by industrial drone platform manufacturer Prodrone Co. Ltd., features an automatic landing function based on image recognition.
Yamakoshi City, Niigata Prefecture, Japan, where the demonstration experiment was conducted, has one of the leading Nishikigoi carp pools in Japan. Spraying all over the terraced ponds with pesticide using a boat is time-consuming and labor-intensive. With this smart drone technology, carp breeders can automatically set altitude and apply effective pesticide spraying just by setting the location.
Terra Drone and KDDI hope to further establish this smart drone platform and apply it to other applications such as surveying topography and equipment, security, disaster monitoring and delivery to remote areas.