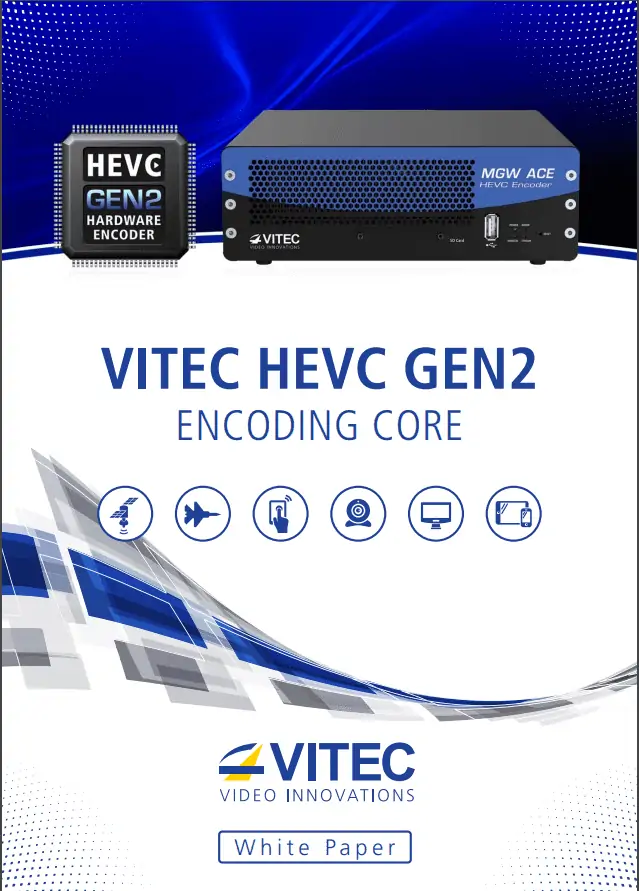 VITEC, a developer of advanced video encoding and streaming solutions, has released a whitepaper which introduces their latest second-generation HEVC codec (GEN2) technology. This new technology sets industry standards in quality, improving HEVC codec efficiency by 20 percent to support the most demanding and diverse video streaming use cases.
HEVC (High Efficiency Video Coding), also referred to as H.265, is a new video compression standard designed to reduce the bandwidth utilization required for various video applications, and/or increasing video quality and resolution using existing network pipes previously used in conjunction with H.264/AVC video compression. This white paper offers an overview of HEVC and discusses the benefits of hardware-based encoding, before introducing the new VITEC HEVC hardware encoding core, GEN2.
The VITEC GEN2 encoding core powers the company's field-proven MGW Ace Encoder — the first portable HEVC hardware-based encoder designed for low latency streaming in real-time applications, such as ISR missions that utilize unmanned vehicles.
The white paper demonstrates the strong compression performance of the GEN2 encoding core, and then goes on to provide a detailed comparison, using common professional video quality assessment tools, between VITEC's MGW Ace HEVC Encoder and other popular off-the-shelf HEVC encoding products in the market.
MGW Ace is the world's first H.265 & H.264 hardware encoder in a professional-grade, low footprint, compact streaming appliance. With real-time 100% hardware HEVC compression, MGW Ace enables users to stream broadcast quality 1080p video with up to 50% bandwidth savings compared to today's H.264 standards. Find out more >