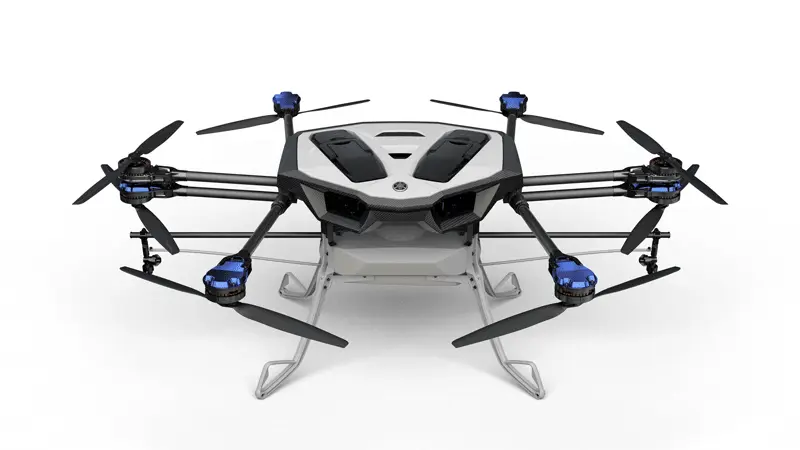 Yamaha Motor has announced the introduction of the YMR-01 – a prototype industrial multi-rotor unmanned aircraft scheduled for launch in 2018 – at the 4th Next Generation Agriculture Expo Tokyo. The YMR-01's design features coaxial rotors and a lightweight carbon body to enable continuous spraying of one hectare per flight, delivering a spraying quality comparable to Yamaha Motor's industrial-use unmanned helicopters.
Yamaha Motor has been engaged in the business of agrochemical spraying using unmanned helicopters for over 30 years, and Yamaha Motor products now cover more than 40% of the total rice paddy cultivation area in Japan. For small fields which are difficult to cover with unmanned helicopters, in addition to manual work, the use of drones for agrochemical spraying has been increasing in recent years.
Through combining coaxial rotor technology with state-of-the-art weight-reduction technology, the new YMR-01 delivers high spraying performance to meet the demanding requirements of modern agriculture. The adoption of a layout in which two of the six rotor axes (one each on the left and right) have "vertical coaxial" rotors – for a total of eight rotors – creates the ideal downward air currents, and the placement of the spraying nozzles near the coaxial axes achieves consistent agrochemical application down to the roots of the crops.
The system also features:
Monocoque shell structure carbon fiber body, delivering an optimal balance between light weight and rigidity
Double-air-intake design for cooling of the electrical system
Landing gear to reduce impact on touchdown
In addition to supplying multi-rotor aircraft, Yamaha Motor also provides practical training services using its proprietary flight simulator.
Yamaha Motor has formed an alliance with Yamabiko Corporation regarding multi-rotor aircraft, with Yamaha Motor planning to supply multi-rotor aircraft and Yamabiko planning to supply granule spraying equipment. In addition to existing Yamaha Motor distributors, the new YMR-01 will also be sold through the Yamabiko sales network.
Find suppliers of VTOL Multi-Rotor Drones & UAS >