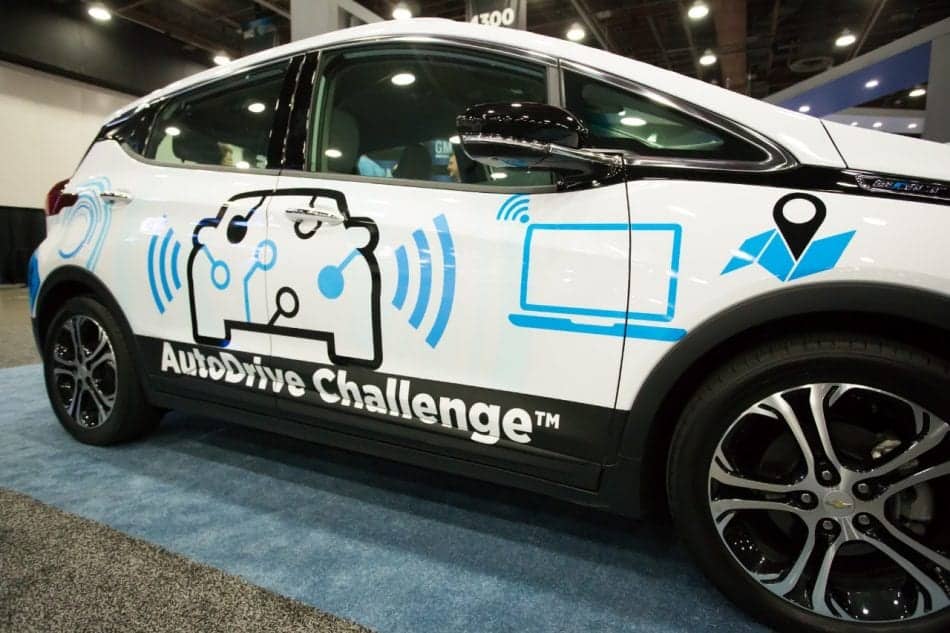 Velodyne LiDAR, a developer of 3D vision systems for autonomous vehicles, has announced that it is a sponsor and core technology provider of LiDAR sensors for SAE International's AutoDrive Challenge.
The AutoDrive Challenge is a three-year program that challenges student engineering teams from elite university programs to test autonomous technologies and develop Level 4 autonomous vehicles. Each year of the program, SAE will host a competition among participating student groups, culminating in a final competition that tasks the vehicles with navigating an urban driving course.
Velodyne is providing up to two VLP-16 Puck sensors to each student team, along with technical support from engineers. The VLP-16 is an advanced 3D LiDAR sensor with low power consumption and a small form factor that can be easily integrated into autonomous vehicles. LiDAR is acknowledged as an important sensing technology for autonomous vehicles and advanced safety systems, so it will be key in helping student teams field competitive vehicles.
"Velodyne is honored to sponsor SAE International's AutoDrive Challenge as a technology provider," said David Hall, Founder and CEO, Velodyne LiDAR. "Autonomous cars are the world's next critical engineering challenge, and it is a unique privilege to work with SAE to ensure students have access to LiDAR sensors, a key technology in addressing this challenge."
SAE has formally reviewed proposals from universities and accepted eight teams for participation. Along with a Chevy Bolt EV as the platform vehicle, the university teams will receive components from strategic partners like Velodyne to aid in their technology development. Throughout the AutoDrive Challenge competition cycle, students and faculty are invited to attend workshops to help refine concepts and increase overall technical understanding of autonomous technology.
"SAE is very excited to welcome Velodyne to the AutoDrive Challenge as an official equipment supplier," said Chris Ciuca, Director of Pre-Professional Education at SAE International. "Velodyne's partnership provides students with the vital resources necessary to accomplish the demanding goals of the competition."