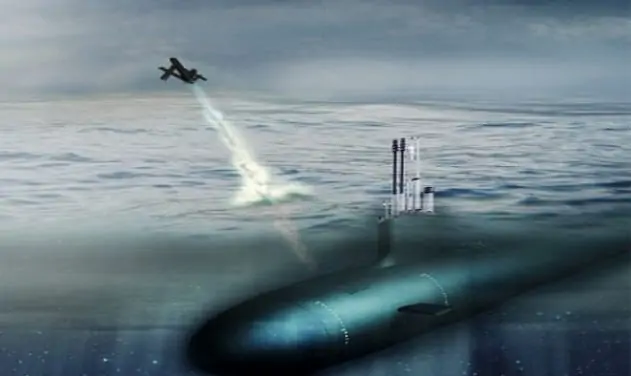 AeroVironment has announced that it has been awarded a contract by the United States Navy for continuation and expansion of its Blackwing small Unmanned Aerial Vehicles (UAV) program. The contract includes orders for multiple Blackwing vehicles, sensor payloads and refurbishment kits.
Blackwing is a small, tube-launched unmanned aircraft that employs an advanced, miniature electro-optical and infrared (EO/IR) payload, integrated inertial/GPS autopilot system and secure Digital Data Link (DDL), all packaged into a vehicle that launches from under the surface of the sea, from manned submarines and unmanned underwater vehicles (UUVs).
"Since first being deployed just a few months ago, Blackwing has delivered valuable new capabilities to United States naval undersea warfare units," said Kirk Flittie, AeroVironment vice president and general manager of its Unmanned Aircraft Systems business segment. "This contract is consistent with the Navy's plans to resupply existing vessels and equip additional submarines with the Blackwing capability."
Blackwing builds on AeroVironment's extensive operational experience with small UAS and its Switchblade Lethal Miniature Aerial Missile System (LMAMS) to provide the Navy with a low-cost, submarine-launched UAS optimized for denied environments. AeroVironment developed the Blackwing system as part of a 2013 Navy and United States Pacific Command (PACOM) sponsored Joint Capabilities Technology Demonstration (JCTD) called Advanced Weapons Enhanced by Submarine UAS against Mobile targets (AWESUM). This JCTD was completed in September 2015 with a strong recommendation to transition the capability into the fleet.
"Blackwing can also be integrated with and deployed from a wide variety of surface vessels and mobile ground vehicles to provide rapid response reconnaissance capabilities to help warfighters proceed with certainty, even in the most challenging settings, helping to ensure safe and successful missions," Flittie said.
"AeroVironment's small UAS – including Raven, Puma AE and Wasp AE, as well as Switchblade loitering missile and its variants – continue proving their life-saving value with U.S. forces and increasingly with our allies around the world as our international footprint grows. We now count more than 40 countries outside of the U.S. as customers for our family of small UAS," he added.