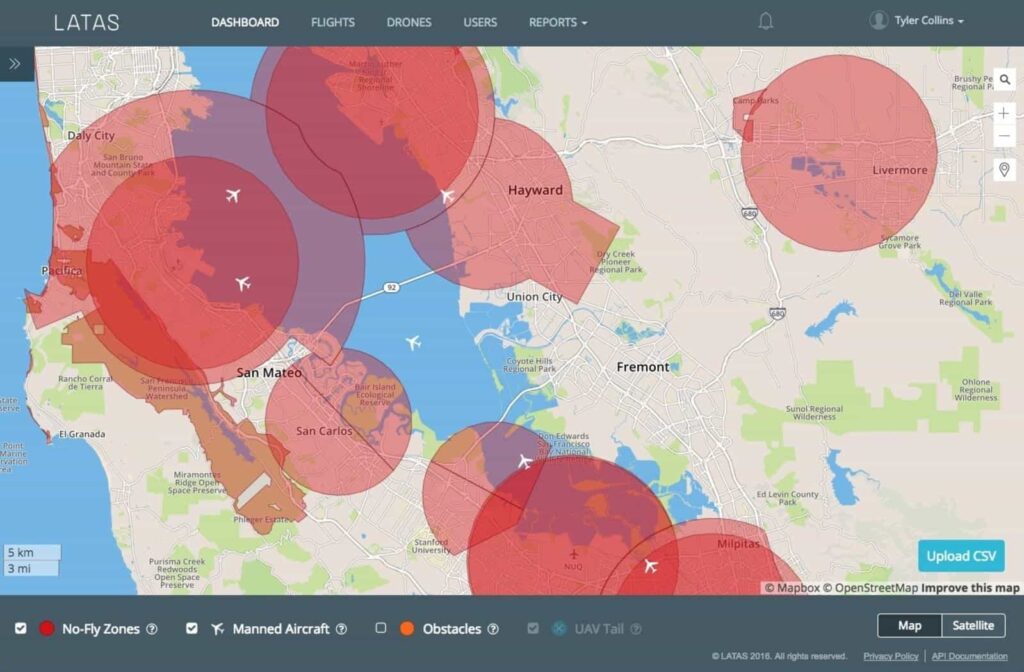 HAZON Solutions and PrecisionHawk have announced that the two companies have formed a partnership to integrate their technologies to provide better drone safety for commercial drone operations. PrecisionHawk's Low Altitude Traffic and Airspace Safety (LATAS) platform will be accessible within the HAZON drone fleet management software, HAZON Drone Management System (DMS).
LATAS is a platform that links drones, 3D ground data and live manned aircraft data from global aviation authorities into a single system that tells commercial or hobbyist drone operators when and where it's safe to fly.
"HAZON DMS represents the highest level of professional grade drone fleet management software in the industry," said HAZON CEO and co-founder David A. Culler, Jr. CAPT USN (ret). "We are extremely excited to partner with PrecisionHawk and bring LATAS to our customers. The platform represents a fantastic capability for safety of flight and operations management, and I have no doubt that this partnership will help our customers maintain extremely high margins in both regards."
HAZON DMS was launched as a fleet management software with features such as operations planning, flight logging, maintenance tracking and field team reporting. HAZON leveraged decades of manned aviation experience to build the system from the ground up as a commercial operator focused program on a software as a service model.
Operating over worldwide cellular networks and satellites, the LATAS platform connects leading airspace management technologies, such as sense and avoid, geofencing and aircraft tracking, into a service package for commercial and recreational drone operators, as well as regulators and air traffic controllers. LATAS allows users to request, track and verify all flight operations from a central location and automatically report flight paths back to aviation authorities.
"Hazon DMS provides a comprehensive platform for businesses to easily manage operations as they begin building out fleets of drones," said Tyler Collins, VP Airspace solutions for PrecisionHawk. "By adding the capabilities of LATAS, DMS users can now deliver the level of visibility and safety that commercial clients expect when deploying drone technology."
"HAZON remains focused on adding features that will help our users increase their safety margins or their operating efficiencies, hopefully both," said Culler. "A partnership with PrecisionHawk was a natural next step, we believe LATAS adds value today and will add outsized value as beyond line of sight flying transitions out of research and into production."