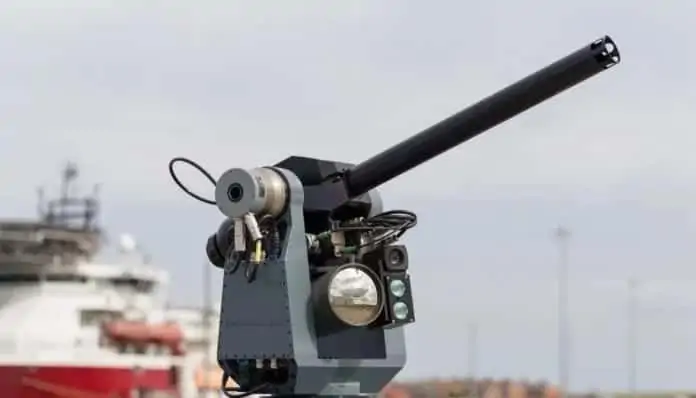 OpenWorks Engineering has announced the launch of a new technology that allows authorities the ability to remotely and automatically capture potential drone threats. The SkyWall300 is an automatic version of the company's field-proven handheld SkyWall100 system, with an increase in range and autonomy.
SkyWall300 is an air powered system that launches the same range of net capture projectiles used with the SkyWall100 handheld system. It integrates with external drone detection and command and control systems to allow for maximum ease of use. It automatically tracks any drone prior to giving the remote operator the ability to command the system to capture the target.
The Skywall concept involves physically capturing a drone in a net and bringing it to the ground safely under a parachute. Electronic warfare methods can be difficult to regulate and approve for use and SkyWall offers a capable alternative. Physically capturing a drone is a good way to ensure control of a situation is maintained. Once captured, an aircraft can be impounded, forensically investigated or handed back to the operator.
James Cross, Sales and Marketing Director of OpenWorks, said: "OpenWorks Engineering is proud to be releasing further information on the SkyWall300 system. We've incorporated all of the knowledge gained through working with the world's leading government authorities and believe SkyWall300 has the ability to give these security operators the protection they need. Authorities around the world have been looking for a system like this and we are proud to continue the tradition of British innovation in the security industry."
OpenWorks Engineering has already delivered the first production SkyWall100 systems to international customers, and it has been deployed by major government authorities. The Skywall300 system was previewed at the DSEI exhibition in London and OpenWorks is already participating in international projects which will see SkyWall300 protecting assets shortly.