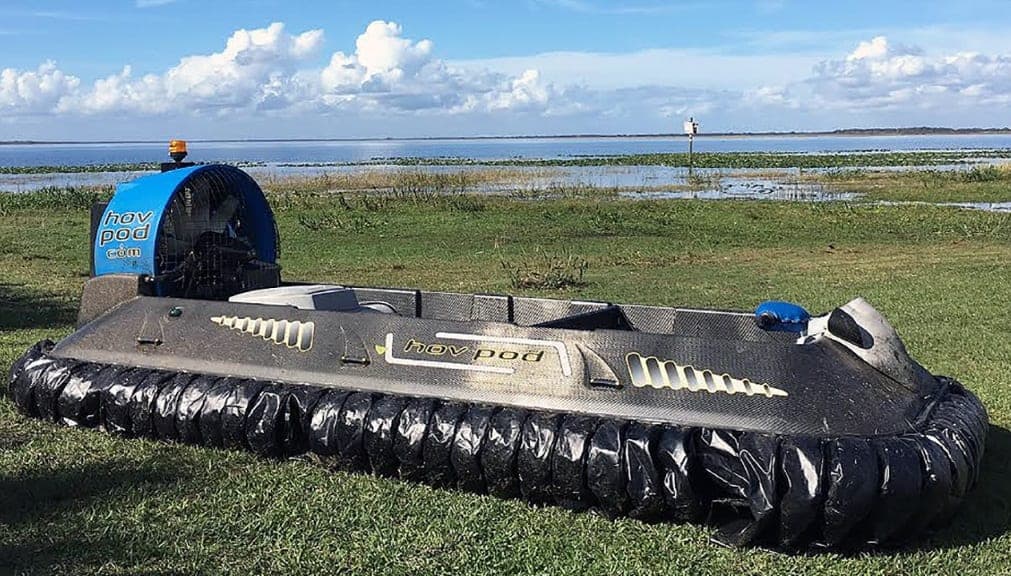 Hov Pod has announced that it has developed what it claims is the world's first unmanned hovercraft. Unlike many conventional unmanned surface vessels (USVs), the Hov Pod hovercraft is capable of operating in all waters. With a wide footprint, the hovercraft are designed specifically for balance, buoyancy and stability.
"Hov Pod unmanned hovercraft and USV systems provide extended surface capabilities for many important commercial and military applications by operating seamlessly off-road and amphibiously over mud, riverbeds, shallow water/tidal regions, flooded land, rapids, shingle beaches, open water, grass, sand, desert, swamps, marshland, wetland, meadow, bogs, bayou, shore, weeds, submerged plants, snow, ice, shallow lakes, dried up salt marshes, rice paddy, sandbanks, roads, indeed any flat surface," stated Ron Harris, VP of Marketing at Hov Pod. "Hov Pod unmanned hovercraft, include the Infinity truck sized model that can carry up to 9 people or haul a 1500 lb. (680 Kg) payload to a remote destination, flying at speeds up to 45 mph. Hov Pod solutions get first responders close to survivors during a disaster, move from water to land, survey remote areas, swarm an island, search a perimeter 24/7 and engage insurgents at the border without risking the life of soldiers."
"The Hov Pod hull is practically indestructible, built to handle the most difficult surfaces including ice. The hull of the SPX Series USV is made entirely from HDPE (High Density Polyethylene) and is molded into an extremely lightweight, buoyant and damage resistant shell. The hull of the Infinity USV is a proprietary blend of Carbon Fiber and Kevlar, the material used in bullet proof vests. The hulls for each the SPX and Infinity carry a 5 year warranty," added Peter Ward, President of Hov Pod.
The Hov Pod hovercraft can also be integrated with compatible UAV systems to form a versatile unmanned surface to air surveillance solution. The company's intention is to integrate these autonomous hovercraft and drones with robotic battery swapping technology, long range cameras, thermal imaging cameras, low light cameras, sensors, sonar, radar and 3D mapping payloads to form a complete system that delivers actionable intelligence in real-time from areas that are inaccessible to any other operations.