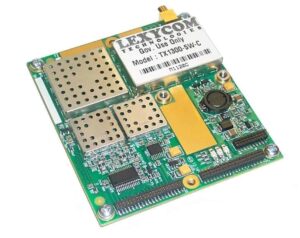 Lexycom Technologies has released the new AM-TDMA Waveform for the company's TELION 1.3GHz series of software defined radios (SDRs).
The AM-TDMA is a TDMA-based waveform that supports a self-organizing, anybody-to-anybody Mesh network. The waveform is highly versatile and can operate as a static TDMA network or can become a fluid Mesh under the real-time control of a user-supplied Application layer. For instance, once a mission is started, an Application layer running at the Access Point (AP) site can expand the network by accepting new players or downsize it by forcing selected remote members to detach. Additionally, as the network changes its shape and size, the AP Application can dynamically throttle the data bandwidth in favor of throughput-demanding players, relocate vacant time slots, assign temporary/permanent data vacuuming nodes, and adjust RF data rates of individual players. The on-demand throughput throttling feature was designed for on-off video streaming from selected member(s) of a UAV (unmanned aerial vehicle) swarm.
The AM-TDMA SDRs differentiate several data types such as Command-and-Control, Sensor data, Video, and Transparent. Each data type is transferred using its own virtual RF tunnel. The Application layer is able to configure each of the player's RF packets within six levels of freedom: RF data rate (9kbps – 1.3Mbps), modulation type, data length/slot timing, frequency channel (25kHz grid), output power, and forward error correction.
All Lexycom SDRs offer FIPS 140-2, Level 2, certified encryption. The SDRs meet a range of military standards as a board-level and are available in a variety of enclosures.