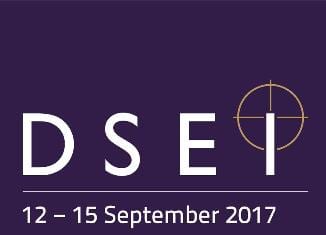 Defence and Security Equipment International (DSEI) will mark its tenth edition when it takes place this September at the ExCeL centre in London.
The organisers have confirmed the exclusive programme of international VIP speakers, which includes:
Rt Hon Sir Michael Fallon MP, Secretary of State for Defence
Rt Hon Liam Fox MP, Secretary of State for International Trade
Rt Hon Ben Wallace MP, Minister of State for Security
Harriett Baldwin MP, Minister for Defence Procurement
Admiral Sir Philip Jones KCB ADC, First Sea Lord and Chief of Naval Staff
General Sir Nick Carter KCB CBE DSO ADC Gen, Chief of the General Staff
Air Chief Marshal Sir Stephen Hillier KCB CBE DFC, Chief of the Air Staff
General Sir Chris Deverell KCB MBE ADC Gen, Commander, Joint Forces Command
Jorge Domecq, Chief Executive, European Defence Agency
Dan Bailey, Program Director, Joint Multi-Role/Future Vertical Lift, AMRDEC, U.S. Army
Michael Vaccaro, Director, Office of Strategic Industries and Economic Security, U.S. Department of Commerce
Lieutenant General Carlo Magrassi, Secretary General of Defence & National Armaments Director, Ministry of Defence Italy
Lt Gen Frank Leidenberger, Commander DEU Elements Multinational Corps / Basic Army Organisation, German Army
Maj Gen Kathryn Toohey, Head Land Capability, Australian Army
Major General J.P.A. Pelletier, RCAF Fighter Program Lead, Royal Canadian Air Force
A new Innovation Hub has been introduced for 2017, reflecting the rising number of pioneers from sectors beyond DSEI's traditional exhibitor-base that have relevant and highly skilled people, solutions and applications which are transferable to defence and security. The Innovation Hub is supported by jHub, the new Joint Forces Command initiative, to identify and exploit technologies and solutions across a range of applications.
Air Vice Marshal Bruce Hedley MBE MA RAF, Director Joint Warfare explains:
"Joint Forces Command delivers the most diverse range of services in UK Defence; from logistics, medical services, education, communications, cyber-security, intelligence, analytics, to unmanned systems, we also provide traditional military Special Forces roles as well. This presents suppliers with an exciting opportunity. In order to access leading innovations, and adapt and adopt existing solutions to meet our challenges, we have set up the jHub innovation centre in London's Tech City. This is a departure from how we normally engage with suppliers, but through the jHub we want to establish an agile way to work with new suppliers, understanding the solutions you have and helping you understand our needs.
DSEI showcases some of the world's best thinking on defence and security, and the jHub team looks forward to meeting delegates who have a story to tell or simply want to learn more about us."
The Innovation Hub will provide an opportunity for companies and Small to Medium sized Enterprises (SMEs), from a wide range of industries, to demonstrate their emerging technologies. Defence & Security Accelerator, Innovate UK, the Knowledge Transfer Network and techUK will be present to provide guidance on how innovative ideas, not originally envisioned for defence or security, can be applied to meet future challenges in these sectors.
In addition, Accelerator will host a demonstration area in DSEI's Innovation Hub to showcase state-of-the-art equipment in three categories: Big Data, Immersive Training and Sensors; which were developed by winners of the Defence Growth Partnership Innovation Challenge, launched at DSEI 2015.
Dr Andy Powell, Security & Defence Manager, at the Knowledge Transfer Network (KTN) said:
"At KTN we work with companies across all sectors to help accelerate innovation. The MOD's Defence Innovation Initiative acknowledges that there are many ideas in commercial sectors that can bring significant advantage to Defence and we are delighted to support the DSEI Innovation Hub that encourages companies to engage with Defence."
DSEI Event Director, Duncan Reid, explained "We are continually looking for new ways to develop DSEI to best reflect the needs of the event's global audience. The Innovation Hub will complement the offering from DSEI's established exhibitor-base while helping other suppliers to break into the defence sector. Acting as a 'marketplace' for business, the Innovation Hub will assist those from the Front-Line Commands who are, in some instances, seeking to deliver military capability with solutions from companies whose expertise lies beyond defence".
DSEI will host a record 1,600 exhibiting companies, around 250 international delegations from traditional and emerging defence and security markets, and 3,000 VIPs (1 star and above) are expected to attend. Register your attendance >