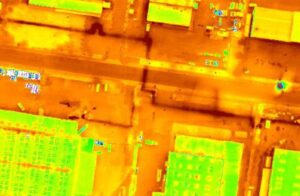 Icaros, a developer of aerial imaging software, has announced that version 5.1 of its OneButton Standard and Professional image processing software for unmanned aerial systems (UAS) contains advanced algorithms to process Thermal IR images from radiometric microbolometer sensors.
Icaros' OneButton software allows end users to automatically generate geospatially precise, fully orthorectified 2D maps and 3D models from frame-based aerial imaging systems. Originally engineered for manned aircraft sensors, the OneButton software has been modified to accommodate the unique collection conditions of unmanned aerial systems (UAS). OneButton 5.1 enables users to adapt radiometric parameters to precisely post-process ThermalCapture RAW readings into precise temperature maps (i.e. an accurately corrected thermal orthomosaic).
OneButton radiometric post-processing of FLIR Tau Core based TeAx ThermalCapture sensor data includes the ability to adjust emissivity, atmospheric transmission and temperature, background temperature, and temperature shift. These features enable TeAx ThermalCapture users to process imagery into high-fidelity thermal orthomosaics, which are crucial for professional industrial applications such as precision agriculture, heat loss detection, and solar panel monitoring.
"When it comes to professional thermal mapping within the global commercial drone industry, one of the biggest challenges is to keep the radiometric information throughout the whole image collection, processing and mapping process," commented Stefan Thamke, CEO of TeAx Technology.
"Icaros and TeAx Technology formed a close international alliance, each bringing enormous knowledge and experience in their own field of expertise, and then worked passionately together to create a one-of-a-kind, professional, state-of-the-art, automated thermal mapping solution for the global commercial drone industry. I am not aware of any other solution on the market that is able to provide full radiometric 2D or 3D maps where all radiometric parameters can still be adapted," continued Thamke.
"We provide farms with Thermal IR and Multispectral surveys using multi-copters. The new features in OneButton 5.1 enable us to provide the most precise orthomosaic on the market with limited effort," said Benjamin Ben-Zion, CEO of Agricam.
OneButton automatically processes raw raster imagery with onboard GPS/IMU data to stitch the individual scenes together into seamless, color-balanced orthomosaics meeting photogrammetric precision and quality standards. Outputs include digital elevation models (DEMs), true color 3D point clouds, and multispectral mosaics – all ready for import directly into GIS and analytics software environments.