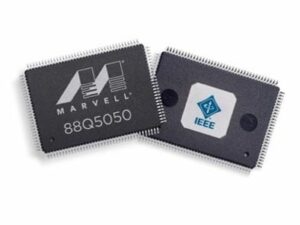 Marvell, a developer of storage, networking and connectivity solutions, has announced a new secure automotive gigabit Ethernet switch, enabling a new level of safe data transmission in next-generation connected vehicles.
There are hundreds of computing applications in the car that require a robust, secure in-vehicle-network, making Ethernet the technology of choice for auto manufacturers. Advanced driver assist systems (ADAS) and in-vehicle infotainment (IVI), as well as autonomous vehicles, will rely on digital information streamed internally within the vehicle and externally from the vehicle to other vehicles. The new automotive Ethernet switch, the latest addition to Marvell's automotive portfolio of wired and wireless network solutions, is designed to prevent malicious attacks or compromises to the data streamed in-and-out of the vehicle.
Chris Koopmans, executive vice president, Networking and Connectivity Group, at Marvell said: "The automotive industry is going through one of the most dramatic transformations in its history, driven by disruptive trends such as assisted and autonomous driving, electrification, and the connected car. With our portfolio of wired and wireless automotive connectivity solutions, Marvell is paving the way for secure, high-bandwidth data transmission in the car of the future."
"As connected cars become more autonomous and the demand for greater data volume and mobility continues to rise, vehicles are also becoming increasingly vulnerable to security breaches and new types of cyberattacks. Marvell's new generation of secure automotive gigabit Ethernet switches constitute a secure hardware foundation for connected cars that will help safeguard the intelligent infrastructures with advanced security features against next level cybercrimes," said Ian Riches at Strategy Analytics.
The highly secure Ethernet switch has been purpose-built to address the increasing risk cybercrime represents to the automotive industry and is fully compliant with the IEEE802.3 and 802.1 standards. The new solution employs a deep packet inspection (DPI) engine and trusted boot functionality to ensure a robust level of security at the foundational hardware layer. The switch also supports both blacklisting and whitelisting addresses on all its Ethernet ports to further enhance its security. To meet the rigorous standards of the industry and withstand harsh automotive environments, the new Ethernet switch is AEC-Q100 qualified. It supports both 100Mbps and 1Gbps interfaces with five integrated 100BASE-T1 physical interfaces and can connect with Marvell's previously announced 1000BASE-T1 PHY.